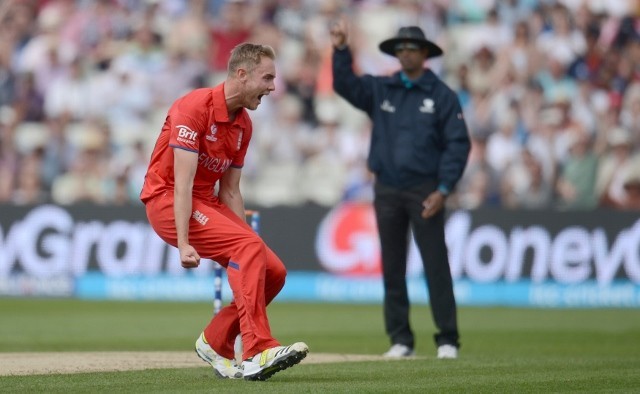 It really is sad to watch Australia struggle like they have in recent times.
In another abject batting performance, Australia, who were without their only world-class batsman Michael Clarke, were punished by a solid, but far from threatening, England side to crash to a disappointing 48-run defeat in their ICC Champions Trophy 2013 game.
A packed Edgbaston crowd came in expecting a high-scoring encounter on a bright sunny day with a flat pitch on offer.
However, instead they witnessed a sound but far from spectacular first innings from England, who seemed to drift their way to 269 for six from their 50 overs, after choosing to bat first, with Ian Bell top scoring with 91.
Australia, who were bowled out for 65 by India in a warm-up game a few days back, struggled to find any kind of rhythm with the bat yet again, finishing on 221 for nine to hand their biggest rivals a huge psychological advantage ahead of the crunch Ashes series.
It was quite poor from Australia really, with the batsmen struggling to score runs right from the off.
If the England innings was stuck in third gear throughout, the Australian batting never even got out of the garage, with only George Bailey (55 in 69 balls) and James Faulkner (54 n.o.) making scores of note on a pitch which should have really not given them as much trouble as it actually did.
The England bowlers, though, should be given credit for sticking to their plans and not giving anything away to the Australian batsmen.
David Warner, who has looked completely out of form, continued with his struggles, eking out nine runs from 20 deliveries before edging one to wicketkeeper Jos Butler, who took a splendid catch to his left, off Stuart Broad.
Shane Watson looked capable of troubling the English bowlers, but was a little unlucky to get out to Tim Bresnan.
The England fast bowler rapped Watson (24, 40b, 1x4) on the pads with the ball then looping all the way to Alastair Cook at gully; Watson also got a thin inside edge onto his pads leading to his dismissal.
Australia's stand-in skipper Bailey and Phil Hughes did their best to keep the score ticking along, allying for 47 runs from 11 overs. However, Hughes did not last too long, falling lbw to part-time off-spinner Joe Root for 30 (55b, 3x4).
Bailey and Adam Voges had another go at a partnership, but a further 33 runs later Australia were 127 for four, with Bresnan castling Voges (15, 23b, 1x4).
The Aussies now needed an improbable 143 runs from 17 overs, and as expected it proved to be way too steep with Mitchell Marsh and Matthew Wade both failing to impress - falling to James Anderson (three for 30) -- as England throttled their opponents the rest of the way to pick up a comfortable win, despite some good rearguard action from Faulkner (54, 42b, 6x4, 1x6).
The first innings was a strange little one from England, where they basically just got stuck in third gear and could not find anything else.
On a pitch, which was conducive to batting, England did not really find any momentum and there was almost a feel of a 1990s one-day innings, with the hosts seemingly more than happy to settle for a score of around 260-270, which it must be said proved to be more than enough.
Cook and Bell got off to a quite solid start, scoring 54 runs in the first ten powerplay overs, before the England skipper was dismissed in the 12th over by Watson - Cook (30, 42b, 3x4) finding a thin outside edge to wicketkeeper Wade.
England got a little stuck from there with Jonathan Trott and Bell failing to find the boundary balls and letting the game drift a little.
They did put together 111 runs from 22 overs, but with the sun out in all its glory - yes it was one of those 20 days in a year in England when you get bright sunshine - the two batsmen really needed to take the game by the scruff of the neck a little bit more.
After reaching a decent 168 for two in a little over 33 overs, England lost a few quick wickets to stare at 213 for six in 43 overs.
England tried to switch into top gear in the final 15 overs, but the gears kept bypassing the fifth, instead shifting to first before settling on a solid but far from flamboyant third.
Trott (43, 56b, 1x4), Bell and Root fell in the space of 21 runs, with Mitchell Starc first inducing an outside edge from the former.
Bell (91, 115b, 7x4) then fell nine short of a hundred, playing outside the line to a straight delivery from James Faulkner (two for 48) and seeing his timber disturbed.
Root fell soon after to McKay, leaving Eoin Morgan and Ravi Bopara to take up the mantle in the final overs.
Morgan is one of the best finishers in the game, but this time there would be no special innings from the Irishman, with McKay (two for 38) knocking off the middle stump as Morgan looked to paddle one fine.
Jos Buttler, who scored a brilliant 47 from just 16 balls against New Zealand a couple of days ago, could not repeat that feat, playing on to Faulkner for just one from two balls.
Bopara (46, 37b, 3x4, 1x6) and Bresnan (19 from 20), however, combined for 56 runs from the last seven overs for the seventh wicket to at least take England to 269.