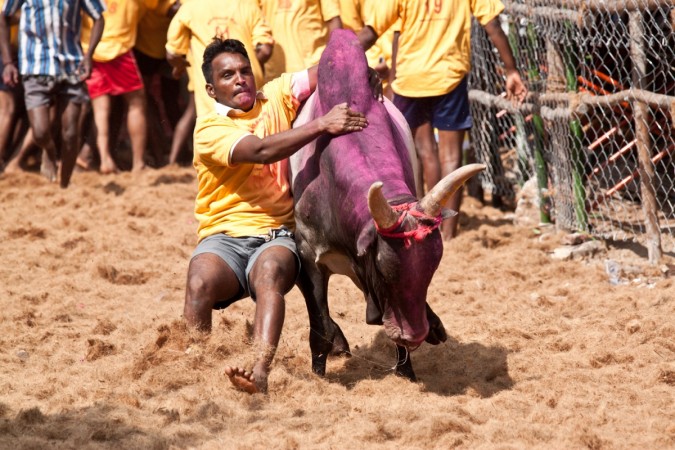 International Business Times, India had conducted a poll on Twitter to find out if people wanted Jallikattu to resume in the state. Thousands of users responded to the poll sharing their views on the matter.
The Supreme Court had banned the sport of Jallikattu after animal rights activists protested against it claiming that bulls are mistreated and tortured in this sporting event. Tamil Nadu Chief Minister O Panneerselvam had also written to the Centre asking it to revoke the ban and allow Jallikattu to be organised during Pongal celebrations in the state.
Jallikattu involves controlling the bull for a specified period of time to win prizes. The sport is held in Tamil Nadu every year during Pongal.
This is what Twitterati had to say:
@ibtimes_india @hiphoptamizha YES ...it's our tradition we don't leave this as such.....we struggle to bring it back

— ishwarya (@ishwaryarose) January 9, 2017
@ibtimes_india @hiphoptamizha why even ask...cannot ban age old traditions.... If.#jallikattu is.banned....ban all meat eating — wave rider (@waverider008) January 10, 2017
@ibtimes_india @hiphoptamizha first thing is it's our culture and dont touch our emotions we need #jallikattu

— என் மொழி தமிழ்!!! (@charmsundar95) January 10, 2017
@ibtimes_india @hiphoptamizha #WeNeedJallikattu its our culture#tnneedjallikattu#wesupportjallikattu — Adithyan (@adiramalingam) January 9, 2017
@ibtimes_india @hiphoptamizha yes we all need #jallikattu its my pride culture to do and to save our breed...

— Francis Daniel (@Francis_Danill) January 9, 2017
@_imjone @ibtimes_india @hiphoptamizha wearing the Saree and going to temple is an culture. Like wise #jallikattu is our culture — Naveen kumar (@Naveenk620001) January 9, 2017
@ibtimes_india Atleast we r not killing animals in the name of food. We play with it. @hiphoptamizha

— Sai Krish (@bsk5496) January 9, 2017
@ibtimes_india @hiphoptamizha pic.twitter.com/JXxASpviAQ — Daniel Francis (@DanielF34565605) January 9, 2017
@ibtimes_india if you see native Tamil bull breeds, their strength, producing disease resistant offsprings,.Thank #jallikattu

— R Mohanraj (@imohnraj_r) January 9, 2017
@ibtimes_india @hiphoptamizha It's our land Our heritigae We will have JALLIKATTU — Chris (@Neyandar) January 9, 2017
@EMO_tionless27 What do u know abt it? The bulls are well taken care of & not harmed in any way.It's a sport @ibtimes_india @hiphoptamizha

— Govinda Govinda (@HinduRajyam) January 9, 2017
@ibtimes_india @hiphoptamizha #TamilNadu doesn't need #Jallikatu, but the animals need to be left in peace. #compassion — Alka Chandna (@alkac1) January 9, 2017
@HinduRajyam @ibtimes_india @hiphoptamizha How do you explain their tails being broken, them having stuff rubbed in their eyes and noses, being poked and jabbed, being tackled etc?

— Hollister (@EMO_tionless27) January 9, 2017
@GaptunThennavan @ibtimes_india @hiphoptamizha Stop their torture and I'll stop complaining — Hollister (@EMO_tionless27) January 10, 2017
@ibtimes_india @hiphoptamizha Stop this madness. It's 2017! Torturing animals should be condemned. Jallikattu is torture.

— Jennofur OConnor (@JennofurOConnor) January 9, 2017