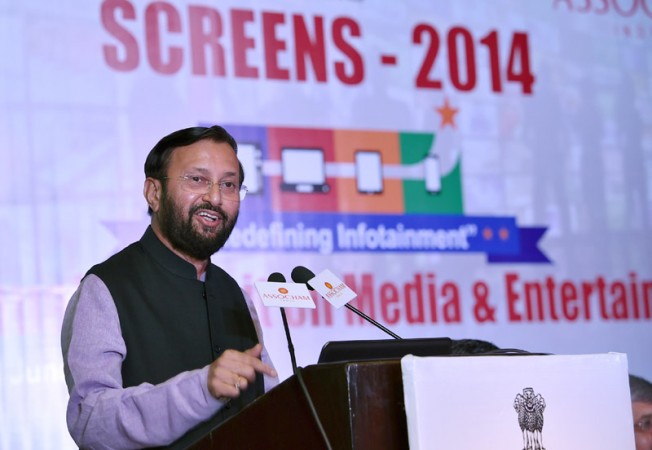 Union Information and Broadcasting Minister Prakash Javadekar on Monday sent home some 50 employees of his department for late coming by asking them to take casual leave (CL) for the day. The Minister, who paid a surprise visit at 9 am, found that over 100 staff members were missing at the desks.
Among the late comers, some were senior officers and most of them were young employees.
Having observed the staff of his Information and Broadcasting Department (I&B) arriving late for work, Jawadekar gave a surprise visit to his Department at 9am on Monday and caught hold of some 100 late comers. The Minister excused some of the late comers on genuine reasons, but not before strictly warning them to be punctual here onwards.
An official present during the Minister's surprise visit said: "He went to the first floor, then the fifth, sixth and seventh floor of the building. He randomly walked into the offices and found only a few present. The minister asked his personal secretary to take pictures on his mobile camera and then left a message for the latecomers that he had come to meet them," The Economic Times quoted.
The Minister observed that most of the late comers were junior staff, whereas most of seniors at secretary-level positions in the office were on time.
In addition to his Information and Broadcasting portfolio, Javadekar holds additional charge of Environment portfolio also. He usually spends first half of the day in the Environment Ministry's office in Indira Paryavaran Bhawan. But on Monday, in a reverse, he reached the I&B Ministry office first in Shastri Bhavan at 9 am and found that most of the desks were without occupants.
Then the Minister checked the offices at the building's first, fifth, sixth and seventh floors and found meagre presence of the staff. Then the Minister asked his personal secretary to take picture of the vacant desks of each absent employee and left a message for the latecomers that he (Javadekar) had come to meet them.
The officials, who were present during Javadekar's surprise visit, said that some 100 staff members had come late to the office on Monday. After seeing the Minister's message, the late arrived staff went and lined-up outside the Minister's office on fifth floor.
One official in the office said: "The minister met them in batches of around 25-30 and politely told them that since this is the first time he would let them go. But he firmly suggested that since they have arrived late, they should take casual leave today and go home."
It can be recalled here that the Prime Minister Narendra Modi had stressed on punctuality and cleanliness for all ministers and staff in government offices. The Prime Minister himself had paid surprise visits to his Prime Minister Office (PMO) soon after taking charge of his position.
The Prime Minister had told government servants that he wanted them to come to work sharp at 9am. Modi has made it clear that office working day begins in all union ministries at 9am sharp. Accordingly, most of the senior officials in the ministries held their toutine meetings by 9.30am.
Following Modi's guidelines, even senior Union Ministers like M Venkaiah Naidu have been said to have conducted such surprise visits in their ministries. Naidu, upon his surprise checks of his Urban Development Ministry, found several staff members were coming late and has warned them strictly to be punctual to work.