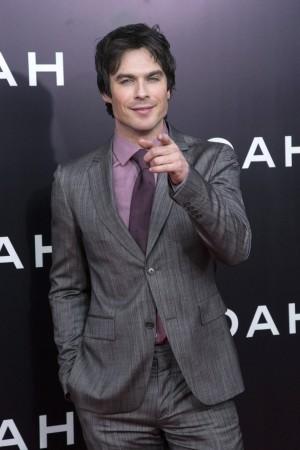 Ian Somerhalder and Nikki Reed are said to be very much in love. The couple reportedly spent $860 in a sex shop in Toronto, Canada.
The duo was spotted shopping at Seduction Love Boutique in Canada and they bought toys like hand Cuffs and restraints, according to a report by TV 3.
The two also showed lot of PDA in the store, as per a report by Hollywoodlife.
It is also reported that an off duty employee mistook Somerhalder for Zac Efron when he was shopping with his girlfriend.
"Both of them were laughing and kissing through the entire store, they always had a hand on each other and the girl was all over Ian the entire time. People usually come to the store and buy one or two things but they went all out. Everyone in the store after they left were joking that he probably should have got the 50 Shades role since he is obviously living it in real life," an insider told TMZ.
Somerhalder and Reed have been friends for a long time. The former was in a relationship with Nina Dobrev before started dating Reed but they called it quits within a year.
Interestingly, Reed is Dobrev's friend and it reported that the latter has no problems with Somerhalder dating her ex boyfriend.
It is also reported that Reed and Somerhalder want Dobrev's blessings.
"It's a little awkward right now because they have the same friend circle as Nina and no one is quite sure how to react. But it's not like Nikki stole him away from Nina, they've been broken up more than a year. But it's still a bit awkward for everyone, they're all waiting for Nina's blessing," the source told the Website.
The couple has moved in together and Reed reportedly visits Somerhalder on "The Vampire Diaries" set. It is also reported that they are planning to get similar tattoos.
Meanwhile, Dobrev was recently seen on a vacation with the "Hunger Games" star Alexandra Ludwig. She hasn't confirmed though she has been linked to many men since her break-up from Somerhalder.