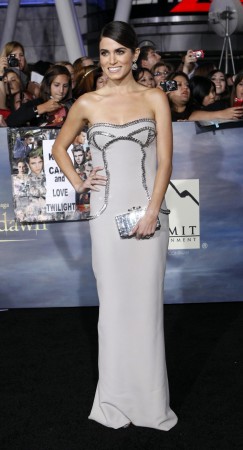 "Twilight" actress Nikki Reed was recently spotted flaunting her engagement ring as she went jogging in Atlanta on 29 January. The exquisite eternity band was reportedly given to her by boyfriend Ian Somerhalder.
"Ian bought a vintage diamond eternity band for Nikki," a source revealed to US Weekly. "It's not a typical engagement ring but actually a wedding band you purchase for when you get married."
Reed and Somerhalder have been rumoured to be engaged for more than a week now; however, they are yet to confirm the news. The couple has been dating for six months and is reportedly planning to get married. They have been quite open about their relationship and have not shied away from praising each other at public events.
Much recently, Reed gushed about the "The Vampire Diaries" star at the Third Annual Catdance Film Festival, held at the SkyLodge in Park City, Utah.
"He's so beautiful inside and out. He's quite possibly the most amazing man that's ever walked the planet, it's crazy. I'm so lucky, I love him," she said as per the website.
The animal-loving couple also shares a range of pets including two horses, four dogs and three cats.
"We love our animals so much. Since the time I could walk, I was doing all these fosters, rehabs, and rescues. My mom and I have done this together, and it was natural to continue it," said the actress.
Before dating Somerhalder, she was married to Paul McDonald. They got married on 16 October 2011 in Malibu; however, they called it quits within three years of their marriage.
Meanwhile, Somerhalder was previously in a relationship with Nina Dobrev. The duo got romantically involved during the shoot of "TVD" and dated for almost three years before heading for splitsville in 2013.