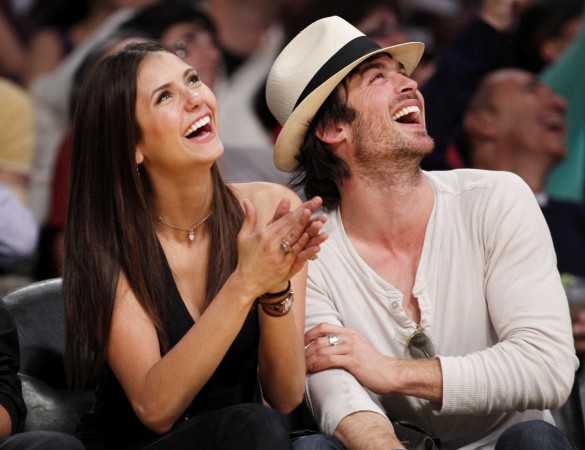 Ever since Nina Dobrev left "The Vampire Diaries", her ex boyfriend Ian Somerhalder has been displaying "diva behaviour", which hasn't gone down well with his other co-stars, a new report claims.
According to a new Celeb Dirty Laundry article, Somerhalder's love for media attention might be causing some tension on the set of the vampire drama, with the media outlet saying "Dobrev's friendliness was preferred to Ian Somerhalder's diva behavior."
The publication went on to add that Somerhalder's recent interview with Variety, where he talked about Dobrev's exit from the vampire drama, was proof enough of his love of media attention.
"Ian recently tried to keep things light in an interview with Variety, but basically he admitted that he enjoyed the fact that Nina Dobrev quit 'The Vampire Diaries' because it puts the focus on his character. Translation – Ian Somerhalder gets more time in the spotlight," Celeb Dirty Laundry reported.
Ever since Dobrev left the show after season 6, the focus of the show has been Damon and Stefan Salvatore and their relationship with their mother, Lily Salvatore.
"Damon and Stefan are really the core of the series. They have the main love story of the season," executive producer Caroline Dries said during Television Critics Association press tour, reported Melty. "The person coming between them - or whatever you want to call it - at first it was Katherine, then Elena, and now that will be Lily. So they will come to blows on how to handle the drama Lily is bringing, but they will also realize: 'You are all I've got.' That is kind of the love story."
Unlike Celeb Dirty Laundry's report, the show isn't completely focused on Somerhalder's Damon. Paul Wesley, who plays Damon's younger brother Stefan, gets equal screen time, and the Stefan-Caroline storyline has been one of the highlights of season 7. The show has also been focusing a lot on Kat Graham's Bonnie.
"The Vampire Diaries" is aired Thursdays on the CW.