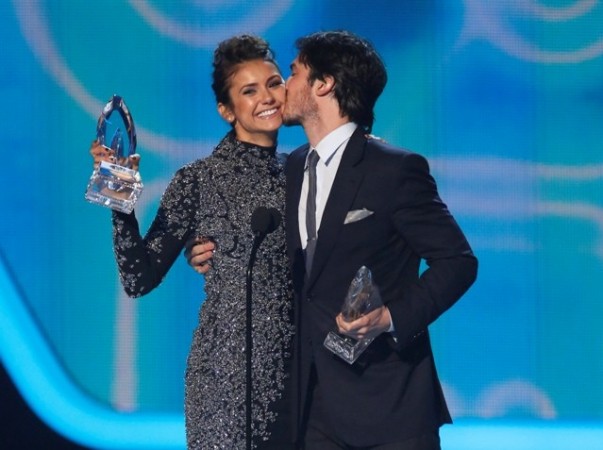 Ian Somerhalder sparked speculation that he is getting serious about his relationship with Nikki Reed when he announced his intention to get married, eventually.
Somerhalder made the announcement while promoting the sixth season of "The Vampire Diaries" at the San Diego Comic-Con.
Although he is not married yet, Somerhalder expressed a desire to settle down at some point in his life. And, because this is the first time he has spoken about marriage, the comment has managed to create quite a buzz.
"I will be. I will be," Somerhalder said about getting married, before adding: "I mean eventually, in my life! No, I mean eventually," reported E!News.
As reported earlier, rumors have it that one of the reasons that caused the split between Somerhalder and Nina Dobrev was the actor's decision to get married and settle down.
While Somerhalder was all for marriage, Dobrev did not want to take the plunge, reports indicated.
Meanwhile, a number of fans believe that the 35-year-old's budding relationship with Reed has once again put marriage thoughts into the actor's head.
The two have been spotted indulging in a lot of public display of affection, and an eye witness at the Young Hollywood Awards told HollywoodLife that Somerhalder and Reed were spotted holding hands and cozying up at the event.
They were "holding hands backstage and whispering on the couch, they are 100% dating," the source said. "Nikki stood up to chat with a friend and Ian stood up right behind her. Very 'boyfriend' protective like."
While several reports indicate that Dobrev is not happy with Somerhalder's relationship with Reed, as she feels the "Twilight" actress has broken the girl code, a HollywoodLife source noted that she does not hate her former beau.
"Nina is over him to the point that she doesn't have to date him ever again, but she will always love him," the source said. "She can't hate him because that would make things weird on the show and would make so many things go into shambles. She knows that she can't be unprofessional."
"There are hundreds of people that make a living off the show and she doesn't want to be known as the person who ruined it," the source added. "It will be interesting to see where their friendship goes when the show ends, but they are over as a couple, and she is dealing with it the best way she can."