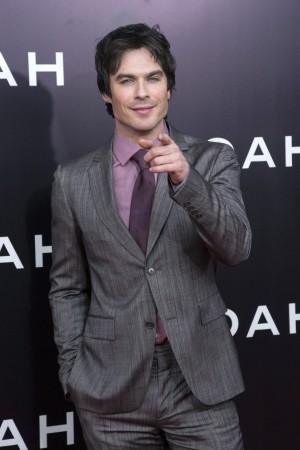 Ian Somerhalder reportedly snubbed Nina Dobrev by not turning up at the premiere of her latest movie, "Let's Be Cops," hinting that the couple's relationship has not improved since he started dating one of her best friends, Nikki Reed.
Celeb Dirty Laundry noted that Somerhalder not turning up for the premiere is quite a snub, especially as it is one of Dobrev's first biggest premieres, and Somerhalder has always claimed to be supportive of his co-stars' careers.
The headline of the Celeb Dirty Laundry report even claims that the two stars are at war, which is sure to make things difficult during the filming of "The Vampire Diaries," which will start its sixth season in October.
This story of a friction between the couple emerged immediately after another report claimed that one of the lead actors of "The Vampire Diaries" has expressed a desire to quit the show.
One actor has not yet signed a contract for the seventh season, E!Online reported, adding that it is not immediately known who the actor is. The three main leads are Somerhalder, Dobrev and Paul Wesley.
E!Online added that it is also a possibility that the network would continue the show without all three stars, by shifting the focus to some other characters.
On the show's future, executive producer Julie Plec said during a Comic-Con interview a few weeks back that she would continue the show as long as the actors want the show to go.
"I think the show will go as long as the actors want the show to go," Plec told E!Online. "You know, look, everybody's under contract. I know that we've got plans for season six, we've got plans for season seven. I know that our bosses have plans for seasons eight, nine, and 10."
She continued: "I said I want to be part of it as long as I know I could keep telling good stories and as long as the ensemble people that I work with want to be there and are committed and dedicated. So, so far so good, you know. We'll see how long we can stay, doing it well. We'll make sure that we don't start sucking."