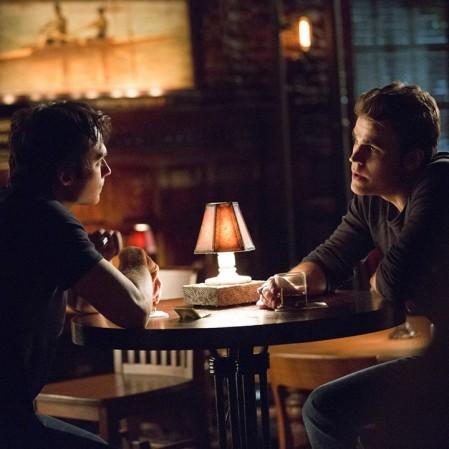 A new season of "The Vampire Diaries" premiered on Thursday, and as promised, the season opener was dark, thanks to the Heretics who are out to seek revenge from Damon Salvatore and others for breaking their truce.
Although Nina Dobrev's Elena Gilbert was not present in the episode, she was mentioned a number of times in the premiere. As fans of "The Vampire Diaries" already know, Kai cast a sleeping spell on Elena and linked her life to Bonnie's in such a way that Elena will not wake up as long as Bonnie lived.
But that doesn't mean Ian Somerhalder's Damon is out looking for another girlfriend. In a recent interview with E!Online, Somerhalder said Damon and Elena are still a couple, and he still loves Elena.
"All I can say about that is that they were great characters separate, they were great characters together, and they remain great characters separated," the actor said. "Damon is still here and he's still evolving and he's still having a blast and he's still saying super-smarmy, ridiculously overly confident, very wildly embarrassing and degrading things and he will continue to do that, but with a little love for Elena in his heart."
Damon's journey without Elena is going to be one of the plots explored in season 7 of the vampire series.
"I'm thinking that this is the evolution of the show," Somerhalder said. "Obviously she is in his heart and he is going to have a very tough time understanding how to go on, but that's what drama's for."
"The Vampire Diaries" airs Thursdays on the CW. Next week's episode will see Caroline being taken hostage by the Heretics after Damon and Bonnie successfully get rid off of one of the Heretics.
Season 7 episode 2 is titled "Never Let Me Go" and the official synopsis reads:
When an impulsive decision by Damon threatens to unravel a carefully negotiated deal between Stefan and Lily, he has no choice but to make amends with his mother before things spiral further out of control. However, Lily remains one step ahead and carries out a harsh plan that hits Damon where it hurts most. Elsewhere, after returning to Whitmore Collage, Alaric turns to Bonnie for help with a mysterious and potentially dangerous artefact he has obtained, while Matt is forced into making a risky life or death decision. Meanwhile, Caroline, who finds herself a pawn in Lily and the heretics' plan for retribution, uncovers a shocking detail about Stefan's past.