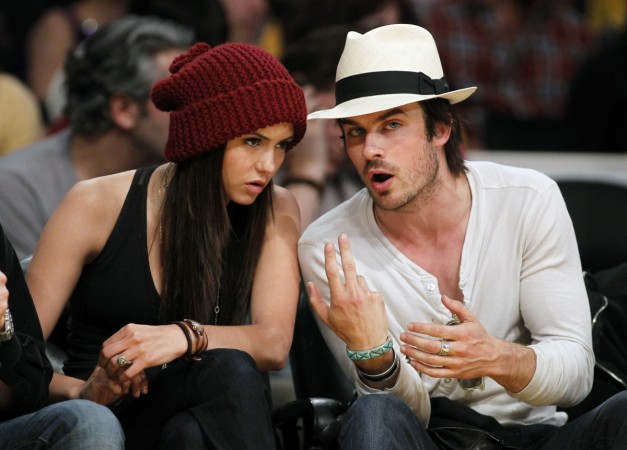 Chances are high that the CW's "The Vampire Diaries" will end after Season 8, considering Kat Graham and Ian Somerhalder have announced their decision to quit the show after the next season. And if Season 8 is the last one of the series, fans could expect Nina Dobrev to be back to reprise her role of Elena Gilbert.
Dobrev had earlier revealed she would be open to coming back one last time to wrap up Elena's story, and fans would once again see the actress pairing up with ex-boyfriend Somerhalder, who is now married to actress Nikki Reed.
Earlier reports had said Reed had a problem with Somerhalder and Dobrev's friendship, and was relieved when Dobrev left the show. Now, it looks like time has made Reed more secure of her relationship with her 37-year-old husband. According to a HollywoodLife source, Dobrev's potential return to the show does not bother the "Twilight" alum one bit.
"Nikki and Ian are so in love. There's nothing he could possibly do to upset her," a source told the media outlet. "The idea of Ian and Nina reuniting on screen for The Vampire Diaries doesn't bother her one bit. She has no issues with this whatsoever. Nikki and Ian are celebrating their one year anniversary on April 26, and that's what she's most looking forward to for the time being."
Also, everyone is ready to put aside the drama in their personal lives to give the show a proper ending, the source noted. "The show did so much for [Ian and Nina's] careers and put them on the map. For Julie Plec and the other writers and creators, they feel like they owe it to them to suck it up and send the show off any way they want to send it off," the source said.
"The Vampire Diaries" airs Fridays on the CW.