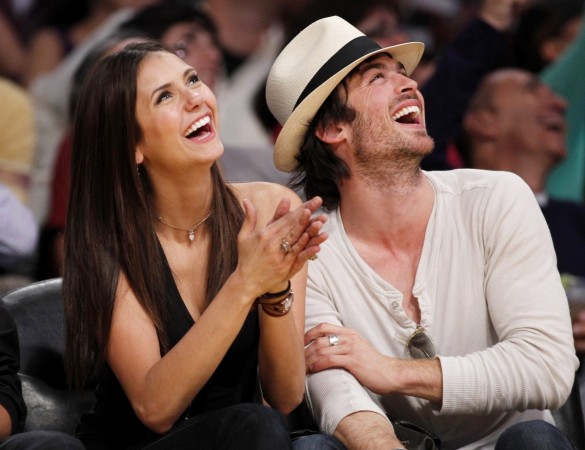 Ian Somerhalder and Nina Dobrev have parted ways but the emotional bond they share over the years during their relationship won't go away overnight. Unlike celebrity couples, who don't see each other after break up, the ex-flames are in good terms with each other and Nina Dobrev has even shared their final moments on "The Vampire Diaries" which would break the hearts of their fans.
Nina Dobrev posted a photo of her shooting the final scene on "The Vampire Diaries" with Ian Somerhalder on her Instagram page. The caption of the photo reads: "Behind the scenes – shooting a Damon&Elena scene w Smolderhalder aka @IanSomerhalder."
Nina Dobrev recently announced that she had quit "The Vampire Diaries." She surprised many of her fans but she wrote on her Instagram page that "I wanted Elena's story to be a six season adventure."
"Dearest TVD Family, I've just spent the most beautiful weekend on Lake Lanier in Georgia with my own TVD Family, the cast and crew of The Vampire Diaries. I want to be the first to tell you that it wasn't just a holiday celebration, it was a goodbye party," she wrote.
It was rumoured that Nina's relationship with Ian Somerhalder would be affected following the latter's engagement to "The Twilight" star Nikki Reed but it doesn't seem to be the case. The ex-lovers are still in good terms and Nina has handled the break-up so maturely.
"If you're with someone for that long, obviously, there's the qualities in them that you enjoy, and it doesn't change because you're not together anymore," Nina had earlier said about Ian to E! Online. "I have an enormous amount of respect and love for him and everyone. It doesn't change. It shouldn't. Otherwise, why were you with them?"
It may be mentioned that Ian Somerhalder and Nina Dobrev shared some intimate moments in "The Vampire Diaries" and they looked comfortable with each other despite the break up. They are such professionals that they don't let their personal lives affect their work.