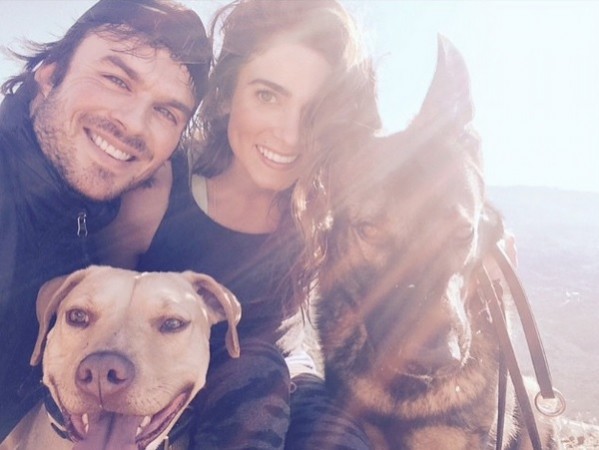 Fans hoping for a Nina Dobrev-Ian Somerhalder reunion can now give up hopes of seeing "The Vampire Diaries" co-stars together in a romantic relationship, as the actor appears to be going ahead with his marriage to Nikki Reed.
New details of their wedding plans have surfaced and from the looks of things the duo is hoping for an outdoor event in the presence of just close family.
"They do want an outside wedding and they also want it to be very intimate," a source close to the couple told HollywoodLife. "They definitely want the feel of it to be outside near where they live."
The animal lovers, who are yet to announce a wedding date, reportedly finalised on an outdoor ceremony because they wanted their pets to be part of the celebration.
As for the guests, it's believed that the couple wants just family with them during their big day. This means Somerhalder's ex and his "The Vampire" diaries co-star Dobrev is unlikely to attend the ceremony.
Somerhalder and Dobrev dated for almost three years before they called it quits in 2013. Although they have been friendly since the split, reports of a friction between the ex-lovers emerged immediately after he started dating Reed.
This friction was supposed to be why the couple was finding it difficult to finalise their guest list. An earlier report suggested that Reed and Somerhalder were conflicted on whether to invite Dobrev, and one option to avoid the awkwardness was to have an intimate ceremony with just family.
"It's a very weird predicament for Ian and Nikki," a source told HollywoodLife last month. "If it is a big wedding Ian feels that he has to ask Nina to go, but anticipates her to respectfully decline. That would be a win win."
"They may actually dodge future awkwardness by having a very intimate wedding with just family and then they can make the excuse that they didn't invite any cast members. One thing for sure is that it is a problem they are definitely trying to figure out," the source said.
This will be Reed's second wedding and Somerhalder's first. Reed was previously married to singer Paul McDonald, who was a contestant on "American Idol" season 10.