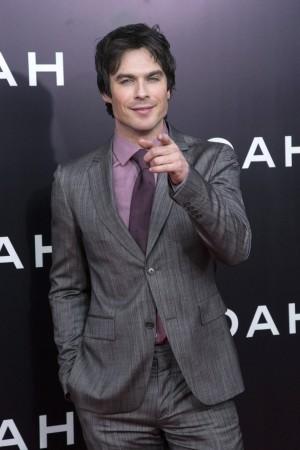 Ian Somerhalder and Nina Dobrev reunion may never happen. "The Vampire Diaries" actor is believed to be in awe of his new girlfriend Nikki Reed. He doesn't mind showering his love on her, in public or on social media.
The duo recently stepped out for the third annual "Unlikely Heroes Awards Dinner and Gala" on 8 November. They reportedly looked happy being in each other's company. Throughout the event, they did not leave each other's side.
"He looked enamoured and crazy in love with her," a source told E News. "They couldn't keep their hands off each other."
The event was held to honour those, who have helped the child victims of sex slavery. When Reed was speaking on the stage, Somerhalder adorably clicked her pictures.
Somerhalder and Reed have been in a relationship for a while now. The two stepped out together a few months ago. Much recently, when Somerhalder's ex-girlfriend Nina Dobrev's fans showed their hatred towards Reed, he knocked them down.
"Do you care about me? Ask yourself that question. What's the answer? Is it yes? If it is—then please be happy for me. Stop this nonsense—you're spreading horrible energy into the world," he wrote on his Instagram page. "Do some research of the person you say sucks or you HATE. You'll find that she's a magical person doing great things in the world."
Despite all the negative energy, Somerhalder and Reed are said to be much in love. The couple are staying strong and are "smitten" with each other, according to the reports.
They have reportedly moved in together. When Somerhalder had taken Reed with him to Atlanta for "The Vampire Diaries'" shoot, the latter reportedly decided to move in with him. The rumour of the couple staying together is yet to be confirmed.
Meanwhile, it is also being said that Somerhalder and Reed are flaunting their love all over the sets of "TVD." This is upsetting Dobrev and this may trigger her to leave the show, according to Hollywoodlife.