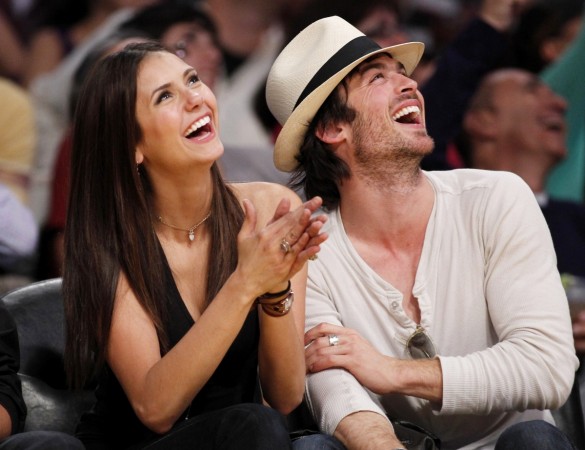 It's all over for ex couple Ian Somerhalder and Nina Dobrev. Their relationship may worsen from now on with "The Vampire Diaries" star getting closer to his fiancée and "The Twilight" star Nikki Reed and Nina quitting the television series.
Ian Somerhalder and Nina Dobrev are seen getting intimate in "The Vampire Diaries" and their incredible on-screen chemistry would make anybody think if they would rekindle their relationship but that may never happen. The fact is, they may stay away from each other very soon.
According to a report by Just Jared, Ian Somerhalder and Nikki Reed were spotted enjoying each other's company on Monday in Venice, Calif., and were caught kissing while shopping at Stronghold Store. They also had lunch together at Gjelina and coffee at Intelligentsia.
In what could sever her relationship with her ex boyfriend Ian Somerhalder even further, Nina Dobrev on Monday announced her decision to quit "The Vampire Diaries."
"Dearest TVD Family, I've just spent the most beautiful weekend on Lake Lanier in Georgia with my own TVD Family, the cast and crew of The Vampire Diaries. I want to be the first to tell you that it wasn't just a holiday celebration, it was a goodbye party," wrote Nina on her Instagram page.
"I always knew I wanted Elena's story to be a six season adventure, and within those six years I got the journey of a lifetime," she added.
Quitting "The Vampire Diaries" is like cutting lifeline with her ex boyfriend, as it was the reason they still meet each other despite parting ways.
According to a report by Celebdirty Laundry, Nina Dobrev thought Ian Somerhalder would get back to her but their relationship strained after Ian got engaged to "The Twilight" star Nikki Reed. It went on to claim that the ex couple might go to the extent of calling their friendship quits after the former ties the knot with his fiancée.