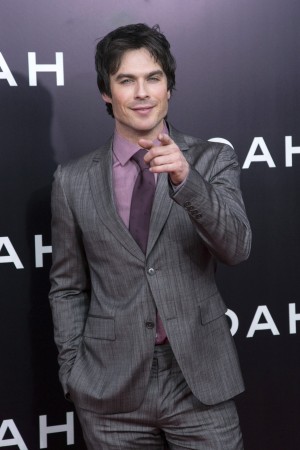 A new report claims that "The Vampire Diaries" stars Ian Somerhalder and Nina Dobrev are quitting the show as tension between them has made it uncomfortable for the two to act together.
The problem appears to be Somerhalder's relationship with "Twilight" actress Nikki Reed, according to a Celeb Dirty Laundry headline, which reads, 'Ian Somerhalder and Nina Dobrev Vampire Diaries Season 6 Feud Over Nikki Reed Worsens – Stars Both Quitting?'
Talks of Dobrev quitting "The Vampire Diaries" have been swirling around for some time, however, this is the first time anything is being reported on Somerhalder too leaving the show.
Reportedly, Somerhalder has been making things uncomfortable for Dobrev by bringing Reed to the "Vampire Diaries" set, and flaunting his relationship in front of Dobrev.
In August, an insider revealed to Us Weekly that Somerhalder and Reed are living together, and their new address is in none other than Atlanta, Ga., where the actor is currently filming season six of "The Vampire Diaries."
"[Nikki] goes to set every day," the source said.
Reed's presence on the set has created such an awkward situation between Somerhalder and his former girlfriend Dobrev that everyone is happy that two actors don't share much screen space in the first half of the season, reports indicate.
As reported earlier, Somerhalder and Reed got together sometime in July, and since then the two have been inseparable. The two seem to be getting serious, as they recently announced through Instagram that they adopted a horse.
However, not everyone is happy that Somerhalder has moved on from Dobrev. Recently, when a lot of haters slammed Reed on the social media, Somerhalder defended his lady love stating that he is upset that they weren't happy for him. "If you hate Nikki then you must hate me…That's sad. Have an amazing day!" he wrote on Instagram.
"You HATE NIKKI REED? Really? Do you know her? Hmmmm, I'm not sure that you do. Look on her Instagram feed or twitter and all you will see is a compassionate and beautiful human being. Please put your negative energy elsewhere. You don't even know the person you're talking about," Somerhalder added.