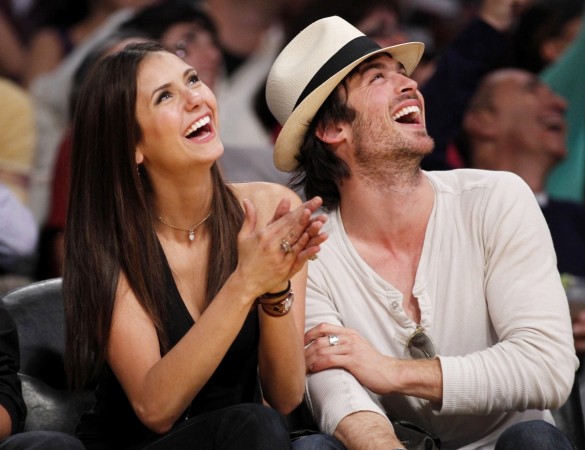 Despite "The Vampire Diaries" actor Ian Somerhalder's marriage to Nikki Reed, and his former girlfriend Nina Dobrev being in a relationship with Austin Stowell, fans are still hoping for a reunion between Somerhalder and Dobrev.
However, there seems to be no hope for a reconciliation between Somerhalder and Dobrev, as the actress' romance with Stowell appears to be getting serious.
The duo recently made their romance official on Twitter by following each other on the microblogging site. "I guess it's official @ninadobrev," the actor noted.
Dobrev and Stowell made their first red-carpet debut at the 'Bridge of Spies' premiere in New York City on 4 October, after first getting together early this summer.
Check out their adorable tweets below:
That weird moment when you realize you don't follow your girlfriend on Twitter... #socialmediaproblems @ninadobrev pic.twitter.com/L4iTo62D58

— Austin Stowell (@austinstowell) October 21, 2015
That awkward moment when u realize ur not following him either&gotta do it realfast b4 he realizes @austinstowell pic.twitter.com/q7NL1m9s3Y — Nina Dobrev (@ninadobrev) October 21, 2015
"You can tell how much they love each other just by the way they speak and their mannerisms toward one another. Austin is such a gentleman and treats Nina with such respect," a source told E! News about the duo.
In the meantime, Somerhalder's relationship with his wife Reed, too, seems to be going fine. But in recent times there have been numerous reports of a fight between the two, supposedly because Somerhalder and Reed cannot agree on when to start a family.
While the 36-year-old is eager to have children, Reed wants to focus on her career and wait for a few years before starting a family, reports noted.