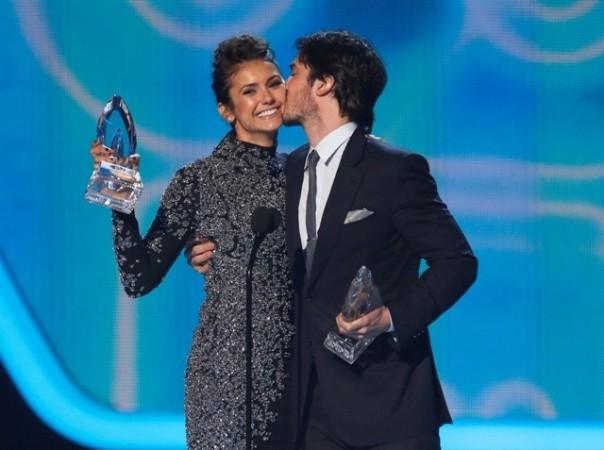 It is no secret that Ian Somerhalder and Nina Dobrev dated for almost three years before splitting in 2013, but the two have remained friends since, until Nikki Reed entered the picture last year.
Somerhalder's six-month romance with Reed culminated into an engagement early this year, and according to recent reports the two will walk down the aisle soon. The big question is if Somerhalder and Reed will invite Dobrev to be a part of their big day, especially as the wedding is going to be near where "The Vampire Diaries" is being filmed.
"Because Ian is filming in the south for 'VD' and his family lives there, that seemed like the perfect place for them to get married," an insider told Life&Style. "They're confirmed to have an outdoor ceremony."
Even if Dobrev scores an invitation, her fans, some of whom are expecting a Dobrev-Somerhalder reunion, do not want the actress to attend the ceremony. They feel it would be painful for her to see her ex wed another person. But some believe an invitation wouldn't be forthcoming, as Reed wouldn't want Dobrev to steal the limelight.
Here's what one fan has to say: "Can't have a guest that would outshine the bride AND groom. It's their day."
Reports also indicate that Dobrev and Reed, who were friends before Somerhalder started dating the "Twilight" actress, aren't in talking terms anymore. Supposedly, Dobrev feels Reed has broken the girl code by dating her ex.
Although Reed is said to have wanted to patch up things, it hasn't happened yet.
Soon after the Reed-Somerhalder engagement was announced, a HollywoodLife source said that Reed has no hard feelings for Dobrev. "Nikki has said that she wants to invite Nina over for dinner, but it hasn't happened yet."
Reed "has no bad blood for Nina. She would love if they could all be friends again," the insider said, adding that "she and Nina used to be so close and Nikki has told lots of people that she would love to get back to that place with her."
Reportedly, when Reed was still married to Paul McDonald and Dobrev was involved with Somerhalder, the four of them used to double date, and Dobrev considered Reed to be one of her best friends.