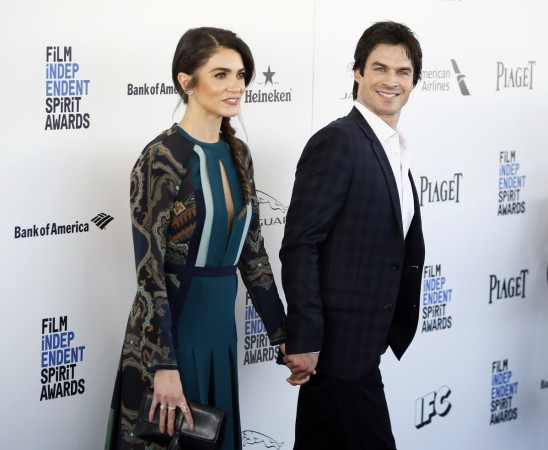 Ian Somerhalder and wife Nikki Reed will celebrate their first wedding anniversary on Tuesday, April 26 and it looks like the couple is all set to expand their family. "The Vampire Diaries" actor has often opened up about his eagerness to have a baby, and recently his wife told the media that having babies with Somerhalder is in the cards.
Reed revealed their baby plans toE!News on April 22 at the Kiehl's Earth Day event and this has sparked a lot of speculation on whether the actress is already pregnant. However, she is yet to show any visible signs of pregnancy.
Somerhalder and Reed are filming Season 2 of "Years of Living Dangerously" for the National Geographic Channel, and chances are they'll be celebrating their first wedding anniversary on board the Alucia. Both Somerhalder and his wife are passionate activists of animal rights and environmentalism and it is only fitting that they spend their special day doing something they love.
A few days back Somerhalder took to Instagram to post a picture of them shooting in the middle of the North Atlantic Ocean and revealed that it was his boyhood dream to be a part of National Geographic science expedition.
"Let's do something Great for our planet today so we get in the habit of doing it everyday," Somerhalder wrote. "We must protect our wild habitats, keep our waters clean, educate our youth and stop stop dirty corporations that own dirty governments so all of us and our kids have a home. It's our earth, our home- let's make Earth Day EVERYDAY..."
In an earlier interview, Somerhalder also spoke about the need to make Earth a cleaner place for the sake of future generations and added that anyone who has a passion to preserve environment should impart the knowledge to the next generation. "One would hope that anyone that has this passion…would enstill in their own children or of the like very similar ideology," Somerhalder previously told E! News.