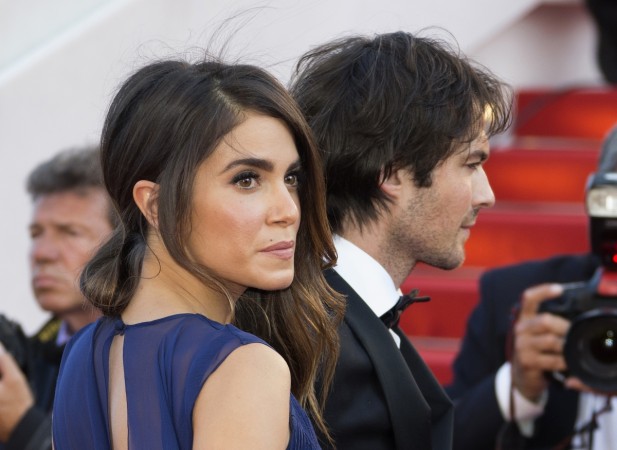 Rumours are rife that Nikki Reed and her "The Vampire Diaries" actor husband Ian Somerhalder might be parting ways. Somerhalder and Reed got married in April 2015 after dating for less than a year, and according to recent reports, his ex girlfriend Nina Dobrev's return to "The Vampire Diaries" has caused a strain in their relationship.
Dobrev and Somerhalder dated for about three years before calling it quits in 2013. Although many hoped for a reunion between the couple, they decided to remain friends and Somerhalder soon started dating Reed, who was friends with Dobrev. But since then things haven't been the same between Dobrev and Somerhalder, and according to reports, Somerhalder flaunting his new relationship on "The Vampire Diaries" set was one of the reasons why Dobrev left the vampire drama after Season 6.
Now, with "The Vampire Diaries" set to end after the upcoming season, Dobrev is set to return to wrap up Elena Gilbert's storyline. Reed supposedly doesn't want the exes to reunite, as she fears it would further cause a strain in their already crumbling marriage.
However, according to a HollywoodLife report, there's no truth to these reports of Reed-Somerhalder marriage trouble. "Nikki and Ian are so in love. There's nothing he could possibly do to upset her. The idea of Ian and Nina reuniting on screen for The Vampire Diaries doesn't bother her one bit. She has no issues with this whatsoever," a source told the publication in April.
Regarding Dobrev's return, "The Vampire Diaries" executive producer Julie Plec said she hoped the actress would honour her promise to be a part of the series finale. "Not to put too much pressure on anything, Nina Dobrev, but a promise was made," Plec told TVLine at Comic-Con." An emotional promise that I'd like to see come to life. There's been friendship promises made, and now we'll see if we can deliver on them."