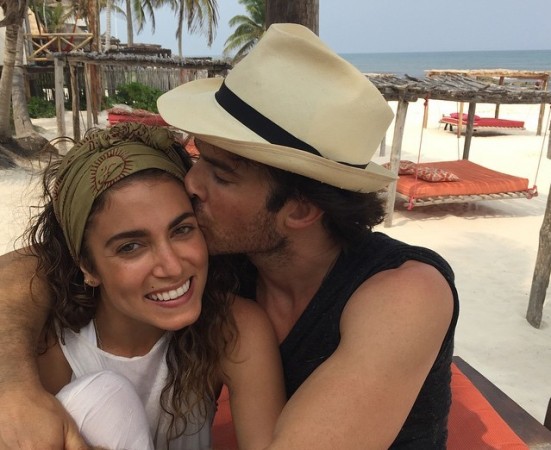 Ian Somerhalder broke a lot of hearts when he got married to Nikki Reed in a romantic sunset ceremony in Santa Monica, California on 26 April.
The two tied the knot after dating for less than a year, and pals of the couple reportedly feel that the rushed marriage could end up in disaster. Some even feel that Somerhalder and Reed's whirlwind romance is similar to her failed marriage to American Idol singer Paul McDonald.
Reed and McDonald got married in October 2011 after just seven months of dating. They first met at the March 2011 premiere of "Little Red Riding Hood" in Los Angeles while McDonald was a contestant on season 10 of "American Idol." The singer moved in with Reed just a month later.
At the time, Somerhalder was dating his "The Vampire Diaries" co-star Nina Dobrev.
"This has Nikki's MO written all over it," a source told OK!Magazine, according to Celeb Dirty Laundry. "She jumps headfirst in to things and gets caught up in the moment. There are a lot of people who could see this ending in tears. She's a heartbreaker who adores those exciting first few months of a relationship, but some folks are questioning whether she truly understands the sanctity of marriage."
According to the media outlet, the 18 May edition of OK! Magazine also noted that the sudden wedding has raised eyebrows, and although the duo has been inseparable since getting together last July, their pals feel "their sprint down the aisle could be too much, too soon."
Although Somerhalder and Reed moved quickly through their relationship, the couple apparently doesn't feel their marriage was a rushed affair. "They don't feel like they rushed into marriage, but if they had kids now, they feel that would actually be a bit of a rush,"a source close to the couple told HollywoodLife.
"Their babies are their animals. They don't want to add to the family right now," the source noted.
It makes sense that the actors would want to take things slow on expanding their family, as they haven't been a couple even for one full year.