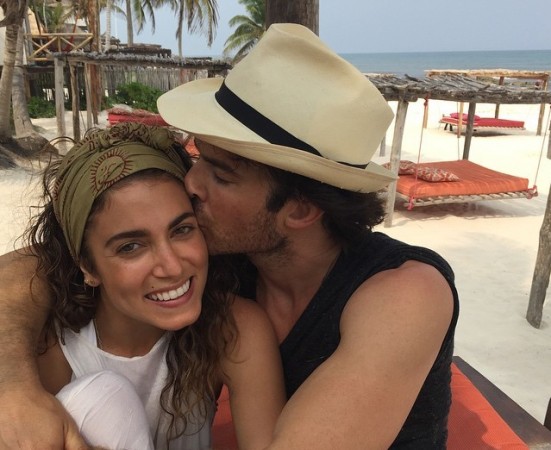 Ian Somehalder and Nikki Reed, who walked down the aisle in an intimate ceremony in Santa Monica, California on 26 April, are currently on the second leg of their honeymoon in Brazil.
The couple's first stop was Mexico, and on Saturday Reed gave fans a glimpse into their world by uploading a picture on Instagram that showed the two lounging on the beach.
Wearing a white top and matching pants, Reed is seen grinning as Somerhalder wrapped his arms around her. "Salty…sandy…sticky…sunburned. The best," she captioned the picture, adding, "I love this human. My human."
As fans of Somerhalder and Reed would recollect, the "Twilight" alum had earlier told the media that she prefers to call Somerhalder her "human."
Speaking to E! News at the third annual Nobel Awards in Beverly Hills in March, Reed, who was then engaged to Somerhalder, said that they prefer the term "human" instead of fiancée or fiancé.
"We have all kinds of words," Reed said, to which Somerhalder chimed: "We have lots of words."
"We stick with human," the "Twilight" star said. "He's my human."
Somerhalder and Reed were then joined by his castmate Paul Wesley and Phoebe Tonkin in Rio de Janeiro, Brazil, for the Vampire Attraction Con 2015
The actors who play Damon and Stefan Salvatore on The CW's "The Vampire Diaries" announced on Instagram that they were launching a t-shirt campaign, and a part of the proceeds will go to making Earth a better place.
"My brotha from another motha Ian Somerhalder and I are launching a t-shirt campaign together. A portion of proceeds will go to making our Earth a better place but we need your help designing the shirts!" Wesley noted in an Instagram post.
Somerhalder too took to his Instagram account to thank his fans in Brazil for making his trip memorable.
"My Brazil right now... Thank you to the amazing Fans, the incredible ISF supporters, the awesome Vampire Attraction Con and the yummy @azzaro_official for bringing me here and making this trip so beautiful. I can't wait to come back! Truly! See you soon!" the actor noted.