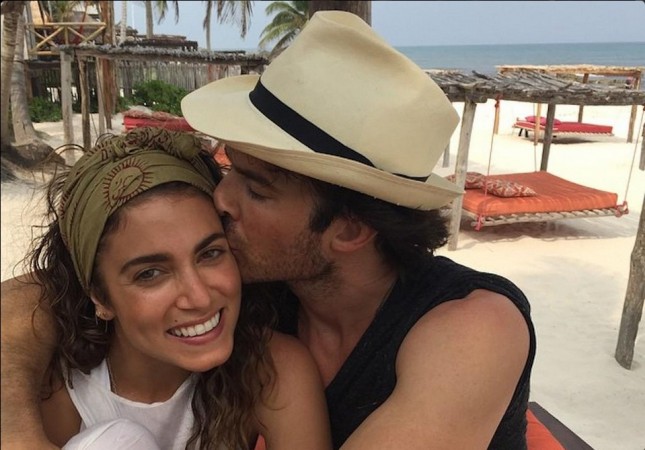 It's not even a month since the most-talked about couple Ian Somerhalder and Nikki Reed have been married, but their friends are already seeing trouble in the couple's martial life. Most of the couple's well-wishers feel that divorce is on the cards and are bracing themselves for the worst.
Ian and Nikki dated for nine months and got married last month in California, just four months after their engagement. Both the stars seemed quite smitten from the day they got engaged, and though there were occasional controversies, the couple showed no signs of strain, at least on social media.
It seems the fast-moving nature of their relationship is the reason that has got the couple's friends fear the worst and has led them to believe that the couple got married too soon.
Also, Nikki has quite a reputation herself and is reportedly quite impulsive in nature. Close friends of the "Twilight" star have disclosed to Ok! Magazine that her whimsical nature is one of the many reasons why her last marriage with "American Idol" star Paul McDonald did not last more than three years.
"She jumps headfirst into things and gets caught up in the moment," a source said. "There are a lot of people who can see this ending in tears," claimed the source, and described Nikki as "a heart breaker" who fails to understand "the sanctity of marriage."
There are others who have a different view. As Ian and Nikki are celebrating their marriage with an "extravagant trip around the world", Ashley Greene, Nikki's co-star from "Twilight" told People that there was nothing wrong with the couple's decision of rushing the wedding.
Ian's co-star from "Vampire Diaries", Kat Graham, also reiterated Ashley's words and said Ian and Nikki are "Soul Mates" and that she can't think of anyone other than Nikki who would look good beside the 36-year-old star.