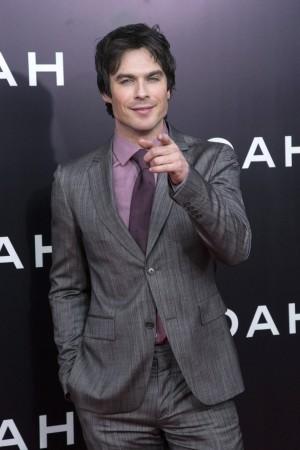 "The Vampire Diaries" star Ian Somerhalder is going strong with his girlfriend Nikki Reed. The couple has been spotted displaying PDA on several occasions ever since they were linked in July.
"They are having a great time with one another," a source told E! Online. "They are still crazy for each other."
The two are apparently madly in love and are looking forward to spend time with each other. Somerhalder had even said in interviews that he is in a happy space.
The 35-year-old actor was previously in a relationship with his "The Vampire Diaries" co-star Nina Dobrev for a year before calling it quits. They still act together on television despite the break-up.
There were rumours suggestting that Dobrev is quite uncomfortable with Reed and Somerhalder's relationship. It was also reported that she would quit "TVD", as she couldn't bear to see Reed visit her ex boyfriend on the sets. She is reportedly making a crossover to another TV series, "The Originals," but there is no news of her quitting "TVD."
Somerhalder and Dobrev reprise their roles in "TVD" season 6 and the premiere of the film will be aired on Thursday.
Meanwhile, Somerhalder, who is an animal rights activist, is not happy with dog fighting. He has taken to Twitter to express his disappointment about dog fighting.
"Just learning about how pitbulls are bred as bait dogs. To all of you dog fighters out there-you SUCK.BIG TIME.Please stop what you are doing," he wrote on his Twitter page.
The actor owns an animal rights group called Ian Somerhlader Foundation and is a caretaker of animals, like cats and horses. He told his fans that they should report to authorities if they know or find anyone involved in dog fighting.
Dogs breeds like Pitbulls, Staffordshire terriers, American Staffordshire terriers, and American bulldogs are trained and even starved for fights.