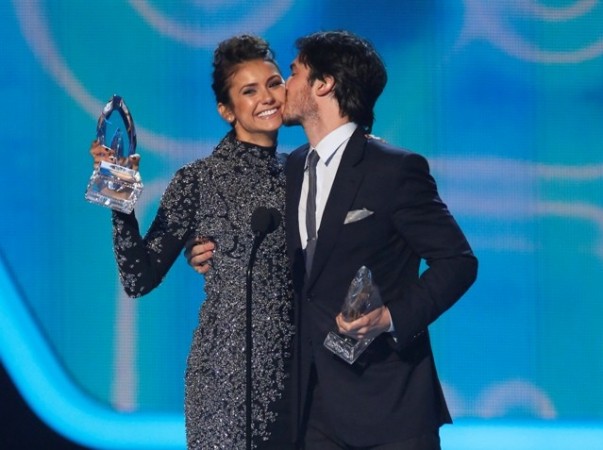 It has only been a few days since reports emerged of "The Vampire Diaries" star Ian Somerhalder's engagement to Nikki Reed. But the actor is already in news for snuggling up to someone who is not his fiancé.
The actor was reportedly seen getting "touchy" with his on-screen girlfriend and former lover, Nina Dobrev, and as per a HollywoodLife source, Dobrev and Somerhalder did not look like they were in character.
"Nina and Ian were VERY touchy in between takes," the source on "The Vampire Diaries" said. "Nina walked in and sat next to Ian on the pew. When she sat down, she immediately leaned her head on his shoulder and just sat there for a few minutes until it was time to roll."
This could have been an innocent gesture, and Somerhalder's fiancé Reed is not too worried about these developments.
"Nikki is not worried whatsoever about Ian, regarding a wandering eye. She refuses to be jealous and until Ian does something wrong, which she doesn't expect to ever happen, she will not distrust Ian at all," another source told the media outlet.
"She knows he is all about directing [season 6 episode 16] and this opportunity is very important to him. She is OK with his professionalism and understands that he has to work with Nina and she totally supports them continuing their friendship," the source added.
Interestingly, this latest report runs contradictory to rumours hinting at a tension between Dobrev and Somerhalder, which reportedly made things uncomfortable on "The Vampire Diaries" set. Talks also indicated that Dobrev was quitting the show due to a strain in her working relationship with Somerhalder, whom she dated for about three years before calling it quits in 2013.
Many believed that their breakup and alleged animosity would affect the vampire drama. But the former couple remained strict professionals, and did not let their personal equation and lack of off-screen chemistry affect their on-screen characters, Damon Salvatore and Elena Gilbert, who remain one of the best loved couples in a drama series.