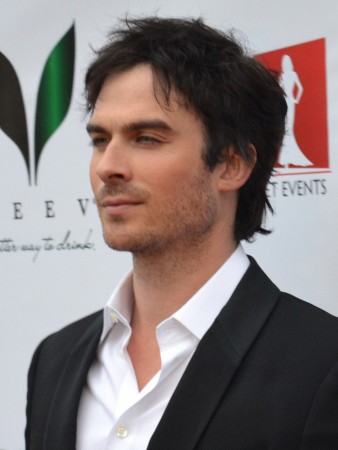 Ian Somherhalder took to Twitter to announce the wrap of the fifth season shoot of "The Vampire Dairies". Somerhalder has been counting days on his social media account and ended the countdown by posting a picture of himself while taking a nap on a couch.
The photo shows Somerhalder lying with his eyes closed on sofa and the season 5 poster of "The Vampire Dairies," is also visible.
"IT'S A WRAP!!!!DAMON SALVATORE AND IAN SOMERHALDER ARE OFFICIALLY WRAPPED-SEASON #5 is DONE. To the most amazing group of people in this business, THANK YOU.THANK YOU. THANK YOU!!!! Thanks for an amazing year of storytelling and thank you to out AUDIENCE-WITHOUT YOU, WE ARE NOTHING... LOVE IAN&DAMON, " he captioned the pictures.
Somherhalder became a household name for his role as Damon Salvatore on the series and gained more attention for his split with "The Vampire Dairies" co-star Nina Dobrev.
Meanwhile, Somherhalder was not the only one to announce the wrap. Julie Plec, the executive producer of the show also took to Twitter to tell fans about the end of Season 5 shoot and also revealed that season 6 will air soon.
"@julieplec: That's a wrap! Much love to all. TVD Season 6 coming your way...." YASSSSSS

— martha (@YUNGBlEBER) April 10, 2014
"The Vampire Dairies" is a supernatural drama series based on the 1991 book series by L. J. Smith. The drama airs on CW Network at 9 p.m. on Thursdays and tells the story of a group of supernatural young adults who fight for love and life.
Season 5 of "The Vampire Diaries" went on air in October 2013, and the season 5 finale is all set to air on May 15 at 9 p.m. on the CW Network.
(ED/VS)