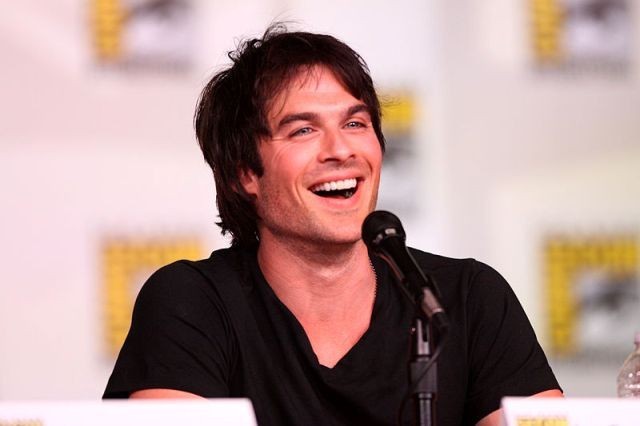 Ian Somerhalder and Nina Dobrev are reportedly back together. The couple, who separated last year due to unknown reasons, has been making to a lot of tabloids due to reunion rumors.
However, it is now being said that the reports of Somerhalder dating Dobrev is a publicity stunt for the actor's film "The Anomaly", which has not opened to rave reviews. So much so, it has been unable to even make a mark at the box office.
Somerhalder does not have that kind of star persona that would give his films a bumper opening. Also, other stars Noel Clarke, Brian Cox, and Luke Hemsworth do not have that status, which could give the film the required success, reported Celeb Dirty Laundry.
It is also being said that "The Vampire Diaries" got a huge fan following due to Somerhalder and Dobrev's passionate relationship.
On the other hand, there is no confirmation to the rumors that Somerhalder and Dobrev are back together.
Meanwhile, despite the criticism Somerhalder is quite proud of " The Anomaly" and thinks highly of the association he shared with the movie.
"Noel is so prolific at what he does, and I was really excited to work with someone who's starring and directing in the movie, because that's something I want to do and I will do myself. Noel is extremely giving with his information, and he has so much passion and compassion for the art of film. He shares it so freely and I'm grateful for that," Somerhalder told Digital Spy
Somerhalder also suggested that he saw the real world parallel in the script.
"Imagine Pfizer or Roche, one of those big pharmaceutical companies, being owned by one family. My character's father Dr Langham, who is played by Brian Cox, understands that humanity is exceeding its resource pool at such an alarming rate that it can't continue on this path. It's what's happening in the world no," the actor said about his role to the site.
"The Anomaly" tells the story of a former soldier who is kept captive in the back of the van and when he wakes up he realizes that he only has a few seconds to understand as to how he got there.
The film is directed by Clarke and written by Simon Lewis. Stella Papamichael of Digital Spy, said that "The Anomaly has all the ingredients of a winning formula, in the wrong measures."