London will be hosting the 16th edition of IAAF World Championships from August 4 at the Olympic Stadium.
Big names from across the globe will be arriving in at the capital city to compete in the 10-day track-and-field event.
The focus will be on Usain Bolt as the decorated Olympian is all set to hang his boots after running the 100m and 4x100m relay races in the upcoming meet.
Also read: Full list of Indian athletes at IAAF World Championships 2017
Distance-running legend and local hope Mo Farah could also use the London meet as his swansong. Having won five world Championships Golds so far, the 34-year-old will be eyeing a double - 5000m, 10,000m.
Kenya, which topped the 2015 medal tally with 7 Golds, 6 Silvers and 3 Bronze, will face quite a lot of competition from the likes of Jamaica and United States.
Great Britain, which finished fourth last edition, will be boosted by home advantage.
On the other hand, India has sent a 25-member unit. Junior world record holder in Javelin Throw, Neeraj Chopra, and 100m specialist Dutee Chand are the Asian minnows' best bet.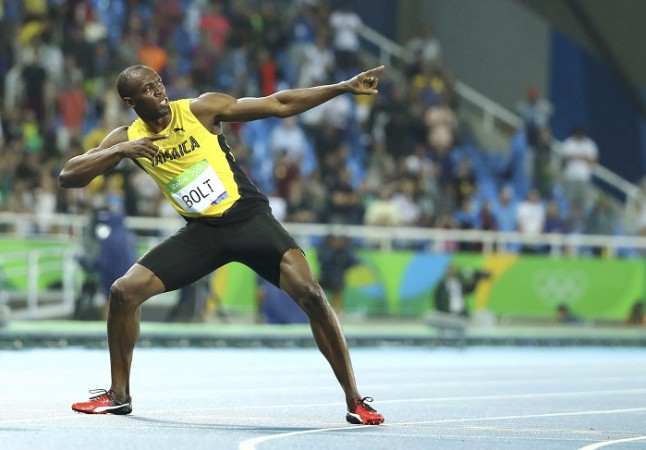 Live streaming and TV coverage information

India: TV: Star Sports Select 2/HD 2. Live streaming: Hotstar

UK: TV: BBC. Live streaming: BBC iPlayer

US: TV: NBCSN. Live streaming: NBC Sports Live

Canada: TV: CBC. Live streaming: CBC Player

Rest of Europe: TV: Eurosport. Live streaming: Eurosport Live

Africa: TV: Supersport. Live streaming: Supersport online
Full schedule
Day 1 - August 4
| | | |
| --- | --- | --- |
| Event | Round | Time |
| Men's 100m | Preliminary | 7pm local time/11:30pm IST |
| Men's Discus Throw | Qualification Group A | 7:20pm local time/11:50pm IST |
| Men's Long Jump | Qualification | 7:30pm local/12am IST [5 August] |
| Women's 1500m | Heats | 7:35pm local/12:05am IST [5 August] |
| Women's Pole Vault | Qualification | 7:45pm local/12:15am IST [5 August] |
| Men's 100m | Heats | 8:20pm local/12:50am IST [5 August] |
| Men's Discus Throw | Qualification Group B | 8:45pm local/1:15am IST [5 August] |
| Men's 10000m | Final | 9:30pm local/1:50am IST [5 August] |

Day 2 - August 5
| | | |
| --- | --- | --- |
| Event | Round | Time |
| -- | Morning session | -- |
| Men's Shot Put | Qualification | 10am local/2:30pm IST |
| Women's 100m Hurdles | Heptathlon | 10:05am local/2:35pm IST |
| Women's Hammer Throw | Qualification Group A | 10:35am local/3:05pm iST |
| Men's 400m | Heats | 10:45am local/3:15pm IST |
| Women's Triple Jump | Qualification | 11:am local/3:30pm IST |
| Women's High Jump | Heptathlon | 11:30am local/4pm IST |
| Women's 100m | Heats | 11:45am local/4:!5pm IST |
| Women's Hammer Throw | Qualification Group B | 12:05am local/4:35pm IST |
| Men's 800m | Heats | 12:45am local/5:15pm IST |
| -- | Afternoon Session | -- |
| Women's Shot Put | Heptathlon | 7pm local/11:30pm IST |
| Men's 100m | Semi-final | 7:05pm local/11:35pm IST |
| Men's Discus Throw | Final | 7:25pm local/11:55pm IST |
| Women's 1500m | Semi-final | 7:35pm local/12:05am [August 6] |
| Men's Long Jump | Final | 8:05pm local/12:35am [August 6] |
| Women's 10,000m | Final | 8:10pm local/12:40am [August 6] |
| Women's 200m | Heptathlon | 9pm local/1:30am [August 6] |
| Men's 100m | Final | 9:45pm local/2:15am [August 6] |

Day 3 - August 6
| | | |
| --- | --- | --- |
| Event | Round | Time |
| -- | Morning session | -- |
| Women's Long Jump | Heptathlon | 10am local/2:30pm IST |
| Men's 3000m Steeplechase | Heats | 10:05am local/2:35pm iST |
| Men's Pole Vault | Qualification | 10:40am local/3:10pm IST |
| Men's Marathon | Final | 10:55am local/3:25pm IST |
| Men's 400m Hurdles | Heats | 11:05am local/3:35pm IST |
| Women's Javelin Throw | Heptathlon Group A | 11:45am local/4:15pm IST |
| Women's 400m | Heats | 11:55pm local/4:25pm IST |
| Women's Javelin Throw | Heptathlon Group B | 1pm local/5:30pm IST |
| Men's 110m Hurdles | Heats | 1:15pm local/5:45pm IST |
| Women's Marathon | Final | 2pm local/6:30pm IST |
| -- | Afternoon session | -- |
| Women's Pole Vault | Final | 7pm local/11:30pm IST |
| Women's Javelin Throw | Qualification Group A | 7:05pm local/11:35pm IST |
| Women's 100m | Semi-final | 7:10pm local/11:40pm IST |
| Men's 400m | Semi-final | 7:40pm local/12:10am IST [August 7] |
| Mens' 110m Hurdles | Semi-final | 8:10pm local/12:40am IST [August 7] |
| Women's Javelin Throw | Qualification Group B | 8:30pm local/1am IST [August 7] |
| Men's Shot Put | Final | 8:35pm local/1:05am IST [August 7] |
| Women's 800m | Heptathlon | 8:40pm local/1:10am IST [August 7] |
| Men's 800m | Semi-final | 9:15pm local/1:45am IST [August 7] |
| Women's 100m | Final | 9:50pm local/2:20am IST [August 7] |
Day 4 - August 7
| | | |
| --- | --- | --- |
| Event | Round | Time |
| Men's 200m | Heats | 6:30pm local/11pm IST |
| Men's Triple Jump | Qualification | 6:35pm local/11:05pm IST |
| Women's Hammer Throw | Final | 7pm local/11:30pm IST |
| Women's 400m Hurdles | Heats | 7:30pm local/12am IST [August 8] |
| Men's 400m Hurdles | Semi-final | 8:20pm local/12:50am IST [August 8] |
| Women's Triple Jump | Final | 8:25pm local/12:55am IST [August 8] |
| Women's 400m | Semi-final | 8:55pm local/1:25am IST [August 8] |
| Men's 110m Hurdles | Final | 9:30pm local/2am IST [August 8] |
| Women's 1500m | Final | 9:50pm local/2:20am IST [August 8] |
Day 5 - August 8
| | | |
| --- | --- | --- |
| Event | Round | Time |
| Women's Javelin Throw | Final | 7:20pm local/11:50pm IST |
| Women's 200m | Heats | 7:30pm local/12am IST [August 9] |
| Men's Pole Vault | Final | 7:35pm local/12:05am IST [August 9] |
| Women's 400m Hurdles | Semi-final | 8:35pm local/1:05am IST [August 9] |
| Women's Shot Put | Qualification | 8:40pm local/1:10am IST [August 9] |
| Men's 3000m Steeplechase | Final | 9:10pm local/1:40am IST [August 9] |
| Men's 800m | Final | 9:35pm local/2:05am IST [August 9] |
| Men's 400m | Final | 9:52pm local/2:22am IST [August 9] |
Day 6 - August 9
| | | |
| --- | --- | --- |
| Event | Round | Date |
| Women's 3000m Steeplechase | Heats | 7:05pm local/11:35pm IST |
| Women's Long Jump | Qualification | 7:10pm local/11:40pm IST |
| Men's Hammer Throw | Qualification Group A | 7:20pm local/11:50pm IST |
| Men's 5000m | Heats | 8:05pm local/12:35am IST [10 August] |
| Women's Shot Put | Final | 8:25pm local/12:55am IST [10 August] |
| Men's Hammer Throw | Qualification Group B | 8:50pm local/1:20am IST [10 August] |
| Men's 200m | Semi-final | 8:55pm local/1:25am IST [10 August] |
| Men's 400m Hurdles | Final | 9:33pm local/2:03am IST [10 August] |
| Women's 400m | Final | 9:50pm local/2:20am IST [10 August] |

Day 7 - August 10
| | | |
| --- | --- | --- |
| Event | Round | Date |
| Women's 5000m | Heats | 6:30pm local/11pm IST |
| Men's Javelin Throw | Qualification Group A | 7:05pm local/11:35pm IST |
| Women's High Jump | Qualification | 7:10pm local/11:40pm IST |
| Women's 800m | Heats | 7:25pm local/11:55pm IST |
| Men's Triple Jump | Final | 8:20pm local/12:50am IST [August 11] |
| Men's 1500m | Heats | 8:25pm local/12:55am IST [August 11] |
| Men's Javelin Throw | Qualification Group B | 8:35pm local/1:05am IST [August 11] |
| Women's 200m | Semi-final | 9:05pm local/1:35am IST [August 11] |
| Women's 400m Hurdles | Final | 9:35pm local/2:05am IST [August 11] |
| Men's 200m | Final | 9:52pm local/2:22am IST [August 11] |

Day 8 - August 11
| | | |
| --- | --- | --- |
| Event | Round | Date |
| -- | Morning session | -- |
| Men's 100m | Decalthlon | 10am local/2:30pm IST |
| Women's Discus Throw | Qualification Group A | 10:10am local/2:40pm IST |
| Women's 100m Hurdles | Heats | 10:45am local/3:15pm IST |
| Men's Long Jump | Decathlon | 11:05am local/3:35pm IST |
| Men's High Jump | Qualification | 11:15am local/3:45pm IST |
| Women's Discus Throw | Qualification Group B | 11:35am local/4:05pm IST |
| Men's Shot Put | Decathlon | 12:55pm local/5:25pm IST |
| -- | Afternoon session | --- |
| Men's High Jump | Decathlon | 5pm local/9:30pm IST |
| Women's 100m Hurdles | Semi-final | 7:05pm local/11:35pm IST |
| Women's Long Jump | Final | 7:10pm local/11:40pm IST |
| Women's 800m | Semi-final | 7:35pm local/12:05am IST [August 12] |
| Men's 1500m | Semi-final | 8:10pm local/12:40am IST [August 12] |
| Men's Hammer Throw | Final | 8:30pm local/1am IST [August 12] |
| Men's 400m | Decathlon | 8:45pm local/1:15am IST [August 12] |
| Women's 3000m Steeplechase | Final | 9:25pm local/1:55am IST [August 12] |
| Women's 200m | Final | 9:50pm local/2:20am IST [August 12] |
Day 9 - August 12
| | | |
| --- | --- | --- |
| Event | Round | Date |
| -- | Morning session | -- |
| Men's 110m Hurdles | Decathlon | 10am local/2:30pm IST |
| Women's 4x100m Relay | Heats | 10:35am local/3:05pm IST |
| Men's 4x100m Relay | Heats | 10:55am local/3:25pm IST |
| Men's Discus Throw | Decathlon Group A | 11am local/3:30pm IST |
| Women's 4x400m Relay | Heats | 11:20am local/3:50pm IST |
| Men's 4x400m Relay | Heats | 11:50am local/3:50pm IST |
| Men;'s Discus Throw | Decathlon Group B | 12:20pm local/ 4:50pm IST |
| Men's Pole Vault | Decathlon Group A | 1:30pm local/ 6pm IST |
| Men's Pole Vault | Decathlon Group B | 2:15pm local/6:45pm IST |
| -- | Afternoon session | -- |
| Men's Javelin Throw | Decathlon Group A | 5:30pm local/10pm IST |
| Men's Javelin Throw | Decathlon Group B | 6:55pm local/11:25pm IST |
| Women's High Jump | Fianal | 7:05pm local/11:35pm IST |
| Women's 100m Hurdles | Final | 8:05pm local/12:35am [August 13] |
| Men's Javelin Throw | Final | 8:15pm local/12:45am [August 13] |
| Men's 5000m | Final | 8:20pm local/12:50am [August 13] |
| Women's 4x100m Relay | Final | 9:30pm local/2am [August 13] |
| Men's 4x100m Relay | Final | 9:50pm local/2:20am [August 13] |
Day 10 - August 13
| | | |
| --- | --- | --- |
| Event | Round | Date |
| -- | Morning session | -- |
| Men's 50km Race Walk | Final | 7:45am local/12:15pm IST |
| Women's 50km Race Walk | Final | 7:45am local/12:15pm IST |
| Women's 20km Race Walk | Final | 12:20pm local/4:50pm IST |
| Men's 20km Race Walk | Final | 2:20pm IST/6:50pm IST |
| -- | Afternoon session | -- |
| Men's High Jump | Final | 7pm local/11:30pm IST |
| Women's Discus Throw | Final | 7:10pm local/11:40pm IST |
| Women's 5000m | Final | 7:35pm local/12:05am IST [August 14] |
| Women's 800m | Final | 8:10pm local/12:40am IST [August 14] |
| Men's 1500m | Final | 8:30pm local/1am IST [August 14] |
| Women's 4x400m Relay | Final | 8:55pm local/1:25am IST [August 14] |
| Men's 4x400m Relay | Final | 9:15pm local/1:45am IST [August 14] |