India have named a 24-member contingent for IAAF World Championships, which will be held in London between August 4 and 13. While the favourites made the list, there were a few notable exclusions as well.
The team has 14 male athletes, who will take part in eight disciplines, while 10 female athletes will compete in six events. A 13-member coaching staff, which includes legendary Indian athlete PT Usha and Anju Bobby George, will also travel with the team to London.
The javelin sensation
India's best bet at the world meet will be junior javelin world record holder Neeraj Chopra. Notably, the 19-year-old set a meet record during his gold medal-winning performance at Asian Athletics Championships (AAC 2017) in Guwahati earlier this month.
The young prodigy has warmed up to the biggest event of his career by participating in Diamond League events in Paris and Monaco this year. With a season best of 85.23, Chopra is also ranked 14 in the world.
Tamil Nadu distance runner G Lakshmanan, who won both the 5,000m and 10,000m gold at the recently concluded Asian meet, will begin proceedings for the country on August 5 in the 10,000m race.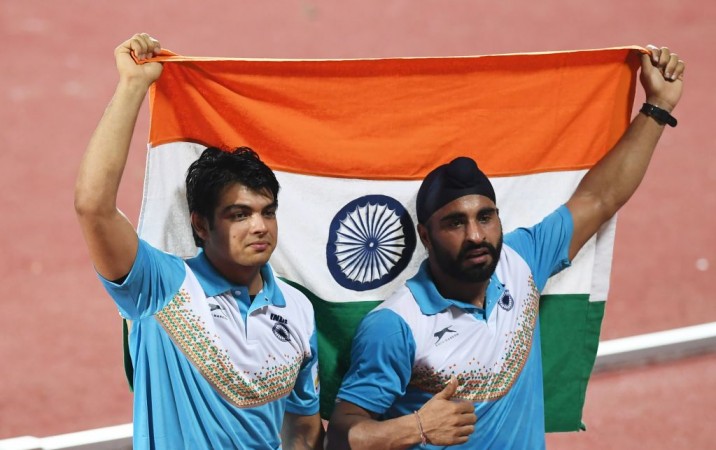 The competition though is expected to be tough with top athletes from all over the world participating in the meet. It will be an uphill task for the Indian contingent to secure podium finishes.
Notably, India had sent a 16-member squad to Beijing in 2015, but the country failed to open its account.
Olympian Sudha Singh among excluded athletes
Veteran steeplechaser Sudha Singh was among three notable exclusions from the squad. The 31-year-old had won a gold in the event at Asian Athletics Championships, which provided her with a direct entry to the world meet.
Along with Sudha, two other gold medal winners from AAC -- Ajoy Kumar Saroj (women's 1500m) and PU Chitra (women's 1500m) -- faced the axe.
Athletics Federation of India (AFI) selection committee chairman Gurbachan Singh Randhawa said the three athletes' performance (at AAC and personal best this season) was well below the World Championships qualifying standards, according to the Press Trust of India.
Team
Men

20km walk - Irfan KolothumThodi, Devender Singh and Ganapathi Krishnan

400m and 4x400m relay - Muhammed Anas Yahiya

5000m and 10000m - LakshmananGovindnan

110m hurdles - Siddhanth Thingalaya

Marathon - Gopi Thonakal

Javelin Throw - Neeraj Chopra and Davinder Singh Kang

4x400m Relay - Arokia Rajiv, Amoj Jacob, Kunhu Mohammed, Mohan Kumar Raja, Sachin Roby.

---

Women

20 km walk - Khushbir Kaur

400m and 4x400m relay - Nirmala Sheoran

Heptathlon - Swapna Barman; Marathon- Monika Motiram Athare

Javelin Throw - Annu Rani

4x400m relay - Poovamma Raju Machettira, Jisna Mathew, Anilda Thomas, JaunaMurmu, Anu Raghavan
Team officials & coaches:
Vishal Kumar Dev, IAS, (team leader)
Tony Daniel (team manager)
Radha Krishnan Nair (deputy chief coach)
Galina Bukharina (coach)
PT Usha (coach) Surendra Singh (coach)
Alexander Arstybashev (coach) Raj Mohan (coach)
Bahadur Singh Chauhan (coach)
Anju Bobby George (coach/observer)
Arun Mendiratta (team doctor)
Pawan Kumar (male masseur), Kinga Lidia (female masseur).