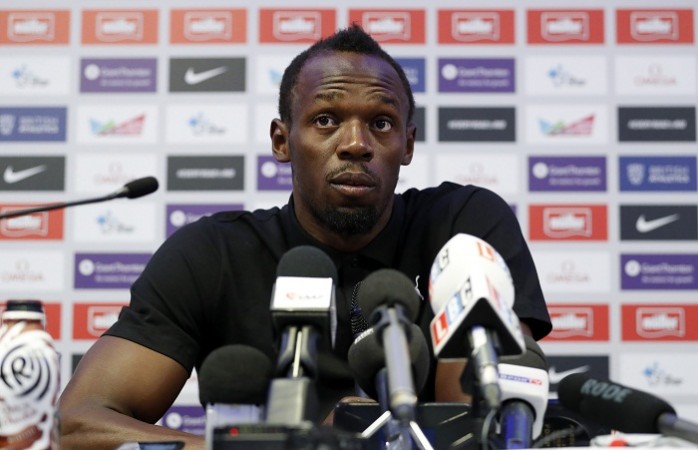 All eyes will be on the fastest man on the planet, Usain Bolt, who is set to feature in IAAF Diamond League's 200m event in London on Friday. The Jamaican suffered an injury during the trails earlier in the month, leading to his withdrawal, but he is said to have recovered from the hamstring problem to participate in the competition.
Though a number of events will take place at the IAAF London Diamond League, including pole vault, hurdles and triple jump, the focus is primarily on the sprint event. This IAAF event has gained utmost prominence for Bolt, who has been troubled with injuries for quite some time. This is Bolt's only sixth competitive run this year.
Bolt is the biggest name to be featured in the IAAF Diamond League in London. If he is not troubled by injuries, he should not have any problem in getting past his fellow competitors. Another sprinter from Jamaica, Nickel Ashmeade, will also be running in the 200m race.
However, Canada's Brendon Rodney will be the one star to watch in the event as he has run sub-20s this season. Bolt has always mentioned about his desire to run sub-19s, and this run in London could be a trailer for what is to come in Rio.
Bolt hopes to receive huge support from the London crowd on Friday.
"This will be my first 200m of 2016 and it will be good to run on the curve ahead of the Olympics. The 200m is my preferred event and I think I can still run faster over the distance before the end of my career. This is a fast track and the weather has been good since I got here on Tuesday," Evening Standard quoted Bolt as saying.
"I am feeling good and injury free. After this race I will travel to the Jamaican team training camp in Rio for another two to three weeks training before the big event kicks off."
"I hope the fans come out to support tomorrow night and create a great atmosphere the way they did the last few times I competed here in London. I look forward to seeing a lot of Jamaicans in the crowd."
Bolt will not be participating in the 100m, but athletes like Michael Rodgers (USA), Aaron Brown (Canada), Jimmy Vicaut (France), Michael Frater (Jamaica) will be eager to shine in London. They are brilliant sprinters, who can entertain the gathered crowd to the hilt.
The 100m heats and finals will take place on Friday itself.
Where to watch live
The 200m race is scheduled for 9:52 p.m local time (2:22 a.m, next day, IST). The 100m heats will start from 8:15 p.m local time (12:45 a.m). The official website will also be streaming the event Live.