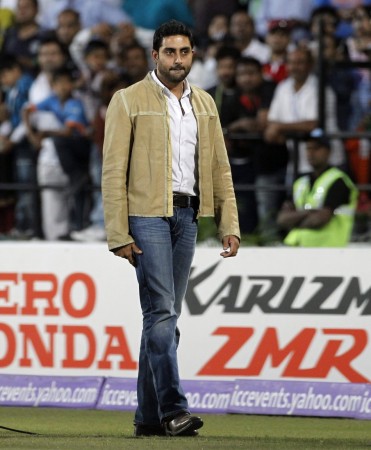 Bollywood actor Abhishek Bachchan is excited about his upcoming project titled "Happy New Year" (HNY) in which he will share screen space with Shah Rukh Khan.
"Happy New Year" reunites director Farah Khan and Shah Rukh Khan after a gap of six years. Featuring Boman Irani in one of the lead roles, the movie is said to be about four friends and Naseerudin Shah's son Vivaan Shah is said to be in the cast.
"I am looking forward to working with Shah Rukh and Farah Khan (in Happy New Year)," Abhishek Bachchan tols Press Trust of India.
Abhishek, who will continue to play the role of a police officer in the third instalment of "Dhoom" franchise, is all praises for his co-star Aamir Khan.
Speaking about Aamir, who will play the role of a protagonist in "Dhoom 3", Abhishek said, "It's third time around and we are looking forward to the film's release. Jai and Ali are back and this time around, we have Aamir Khan with us and what an honour for any actor to get the opportunity to work with him. You get to learn so much by just observing him."
"He is so helpful, caring and giving as an actor and its been a great experience working with him. We will try and convince him to comeback for Dhoom 4 as a good guy," he added.
Abhishek, who has a number of projects in his hands including "Dostana 2" and "Oh My God" director Umesh Shukla, said that he hates his performance and always tries to improve it.
"I hate all my performances and hope I don't start liking them. I believe that the day you start liking your work is the day you become complacent. I review my work, I always find something I can improve on," Junior Bachchan said.
"I think it's the same with all actors. We are always trying to better ourselves from our last outing. So I am not a big fan of my own work," he added.