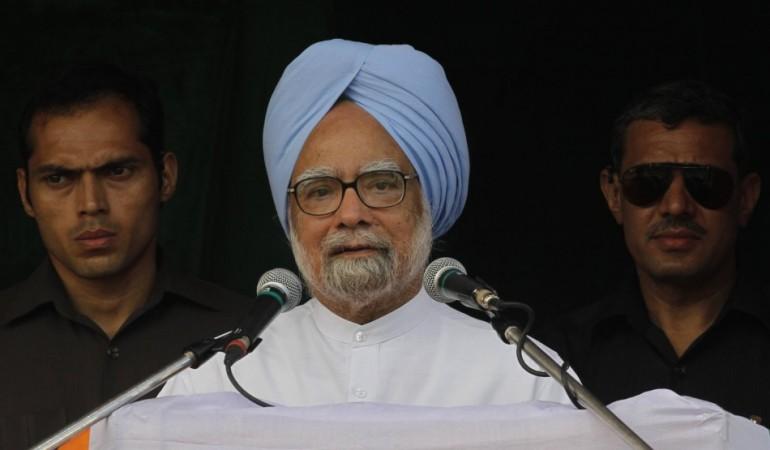 Prime Minister Manmohan Singh has hit out at Team Anna for alleging corruption charges against him, saying that he will give up his public life if the charges are proved.
"I will give up my public life if allegations are proved against me," the PM told reporters on board the flight when he was returning back to New Delhi from Myanmar.
"It is unfortunate that irresponsible allegations relating to irregularities in allocation of coal blocks are being made without confirming facts," he said.
The PM then went on to say that his public life has been very transparent.
"My long public career as finance minister, as Leader of Opposition in the Rajya Sabha and as Prime Minister has been an open book," he said.
Last week, Team Anna demanded probe into allegations of corruption charges against 15 cabinet ministers, including Prime Minister Manmohan Singh.
For the first time, Team Anna has accused the Prime Minister of corruption charges. Based on a draft Comptroller and Auditor General (CAG) report, Team Anna said that Coal Ministry which was under the responsibility of the PM during the period between 2006 and 2009, had involved in allocation of coal blocks to companies without auction that had caused the exchequer a loss of Rs 10,600 billion (10.6 lakh crores rupees).
Responding to PM's reply, Team Anna member Prashant Bhushan said that the Prime Minister should have read the allegations and documents before giving a reply.
"He should have at least bothered to read the allegations and the supporting documents. He could have then given point by point response," said Team Anna member Prashant Bhusan.
"If he is clear about his integrity then he should be the first to set up a Special Investigation Team (SIT)," said Bhusan.
Earlier on Saturday (May 25), Team Anna demanded the creation of a team with six retired judges to investigate the allegations of corruption charges.
"We want setting up of a special investigation team which would probe the charges against the ministers within six months. If such a probe is not initiated, we will launch a nationwide movement on July 25," DNA quoted Arvind Kejriwal, Anna team member, as saying.
However, Prashant Bushan said that the PM can chose any three retired judges from a list of six they had named to be on the probe panel.
Besides the Prime Minister, Team Anna has demanded investigation into alleged corruption charges against Finance Minister Pranab Mukherjee, Law Minister Salman Khurshid, Urban Development Minister Kamal Nath, Heavy Industries Minister Praful Patel, Food and Agriculture Minister Sharad Pawar, Minister for Science & Technology Vilasrao Deshmukh, Small and Medium Enterprises Minister Virbhadra Singh, Union Shipping Minister GK Vasan, Fertilizer and Chemical Minister MK Alagiri, Minister of New & Renewable Energy Farooq Abdullah and Power Minister Sushil Kumar Shinde.
(With inputs from IBNS)