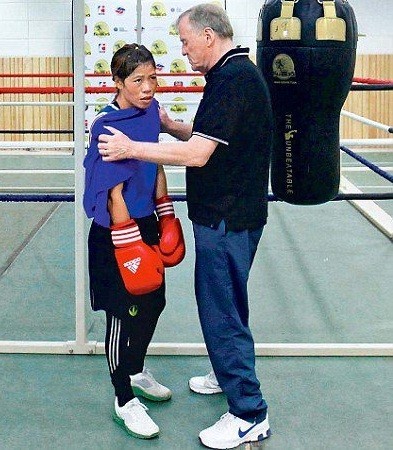 MC Mary Kom, five-time world champion and the lone Indian female boxer at the London Olympics, will enter the rings on Sunday without her coach Charles Atkinson though she wants him on the ringside.
"Yes, I want Charles (Atkinson) to be on the ringside but I will have to respect rules of AIBA," Mary told IBTimes.
Atkinson, who trained the five-time world champion during the last six months leading up to the Olympics, has been denied permission to accompany her to the Olympics on the ground that International Boxing Association (AIBA) permits only people with AIBA 3-star certification to be coaches at big events like the Olympics and the world championships.
Asked if she had been forced to train on her own in Liverpool, as reported by some section of the media, she said it was a preplanned move.
"I am not force to train in Liverpool. It's a preplan (move) for Olympic preparation after consultation with my sponsor OGQ (Olympic Gold Quest), Indian Boxing Federation as well as Ministry of Sports," she told IBTimes.
India's acting Chef de mission P.K. Muralidharan Raja had earlier said in a statement that Charles Atkinson could not be "accredited as Mary Kom's coach for the Olympics as per AIBA rules".
"As per International Boxing Association (AIBA) rules, only those coaches and trainers who are AIBA approved and accredited are permitted to participate as coaches or seconds for boxers at the Olympics. Charles Atkinson who has been Mary Kom's coach for the past six months is a professional WBC coach and has trained Thai WBC boxers in Thailand," Raja said in a statement on Thursday.
"AIBA does not permit any boxing coach who does not have an AIBA 3-star certification to be coaches at the Olympics, world championships, Asian Games, etc." he added.
In the absence of her regular coach, chief women's coach Anoop Kumar will accompany her at the Olympics.
World No.4 Mary Kom will meet world No. 5 Karolina Anna Michalczuk of Poland in the opening bout on Sunday (August 5). She will fight in the 51 kg category at the Olympics.