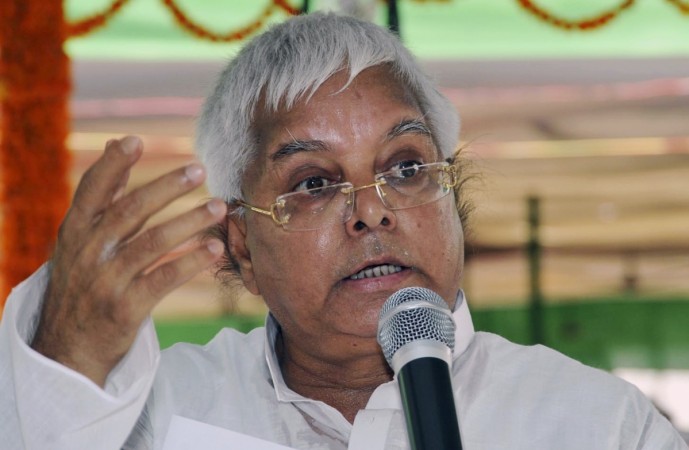 The Income Tax Department on Tuesday, May 16, carried out raids and surveys at at least 22 locations in New Delhi and adjoining areas over alleged benami deals to the tune of Rs 1,000 crore involving Rashtriya Janata Dal (RJD) chief Lalu Prasad Yadav and others.
I-T officials began carrying out raids at the premises of prominent businessmen and real-estate agents in the national capital, Gurugram, Rewari and a few other places in the early hours of Tuesday, officials told the Press Trust of India (PTI), adding that raids were also being carried out at the premises of RJD MP PC Gupta's son.
"People and businessmen connected to the land deal involving Lalu Prasad and his family are being searched. There are allegations of benami deals worth about Rs 1,000 crore and subsequent tax evasion," a senior official said. The I-T Department is also conducting surveys at 10 other official premises. Officials said a team of 100 I-T officials and policemen were carrying out the searches.
This comes a week after the Bharatiya Janata Party (BJP) alleged that Lalu, his daughter and MP Misa Bharti and his two sons Tejashwi and Tej Pratap Yadav — who are ministers in the Nitish Kumar-led Bihar government — were involved in corrupt land deals worth Rs 1,000 crore.
Union Law Minister Ravi Shankar Prasad had demanded that the Centre initiate a probe into the matter. He also accused Bharti of not disclosing these assets to the Election Commission (EC) and demanded that the poll panel take action against her. He also wondered whether Bihar Chief Minister Nitish Kumar would invoke a special law enacted by his government which allows the confiscation of assets acquired through illegal money.
"Lalu's official residence was the address of the owners of the firms allegedly floated by his family members. The politics of Lalu Prasad has become politics of loot. Land worth crores of rupees was grabbed for a pittance. One such land deal involving Lalu Prasad and his family members is in Bijwasan in Delhi. We expect the Central government to take appropriate action," the Union minister had said.
Ravi Shankar Prasad had also alleged that all the companies owned by Lalu and his family members had no employees, business activities or turnover. He had also alleged that the state's biggest shopping mall that is coming up in Patna is part of such questionable transactions.