Since the last few days, I've been dreaming of my 6-year-old son Edric calling out to me, "Amma!". I haven't heard my son's sweet voice since what seems like an eternity. I don't know if he even recognises my face anymore. It seems like his eyes continue to look for a familiar face even after seeing me. My son has Brain Tuberculoma.
According to the doctors, the bacteria in my son's body has travelled to his brain leading to this dreadful condition. He needs treatment for a year to become the child that we all know. The cost of treatment is a staggering Rs 12 lakh. Looking at our finances right now, I sometimes wonder if I'll ever be able to see him healthy and happy ever again.
My name is Balpinal - I'm Edric's mother. I live in Thane with my husband and Edric. I'm a housewife and my husband is a mechanical engineer who makes Rs. 45,000 every month. We've put every penny of our savings in his treatment and it's still not been enough to even make him talk. Initially, we needed urgent money to get his treatment started, so we had to sell the house we possessed back in our village. That was our only asset that got us over Rs. 22 lakh and now we've lost that and even exhausted our savings. Edric needs continuous treatment for at least a year. We're in desperate need of help as we're failing to afford the injections that promise to save his life.
Balpinal and her husband are struggling to pay for their son's treatment. Your donations can help them save their son's life.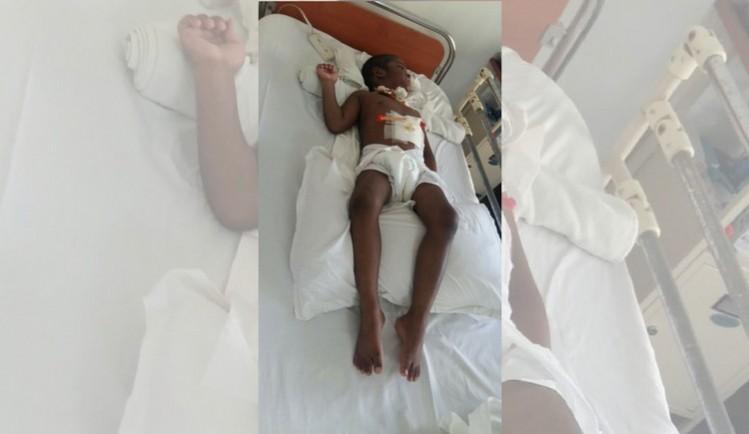 Our lives have been miserable since July 2017. For almost a month, my son was getting treated for conditions he didn't have because what he really had stayed undetected. Initially, he was given injections to treat Swine Flu and later Typhoid. One dreadful night, I woke up to find Edric's right cheek sunken in his oral cavity and his right hand was completely twisted to the back. When I tried to move him, his right leg slipped off the bed. That moment I realised, my son's right side was completely paralysed. We rushed to the hospital. And an MRI later, our lives changed, my son had Brain Tuberculoma. A tumour was present on the left side of his brain thus paralysing the right side completely.
My heart aches to see him struggle like this. Edric used to be a naughty kid, always running around the house. He enjoys attention from people he loves. Often when relatives gather at our house for functions, he runs to them, starts telling them about what he learned at school and narrates the lines he has learned on "Myself", with a big nervous smile on his face. It's been so long since I've seen that smile.
With your help in the form of donations, Balpinal can afford the surgery that Edric needs.
Nothing has been the same. "Do you want us to switch on the fan?" we ask him using actions. 1 blink is yes. That's the only way he communicates. My son doesn't eat or drink anything, he can't even swallow! His mouth contains a suction pipe that removes all the accumulated saliva because of his inability to swallow. I haven't been able to eat anything myself. How will a mother eat knowing his son hasn't eaten a single meal since months? I wish I could do something to ease his pain but I can't do anything apart from ensuring he gets the treatment he needs. We don't want to lose our only child. Please help us out.
You can help Balpinal by donating to his fundraiser on Ketto here.
[Sponsored content]