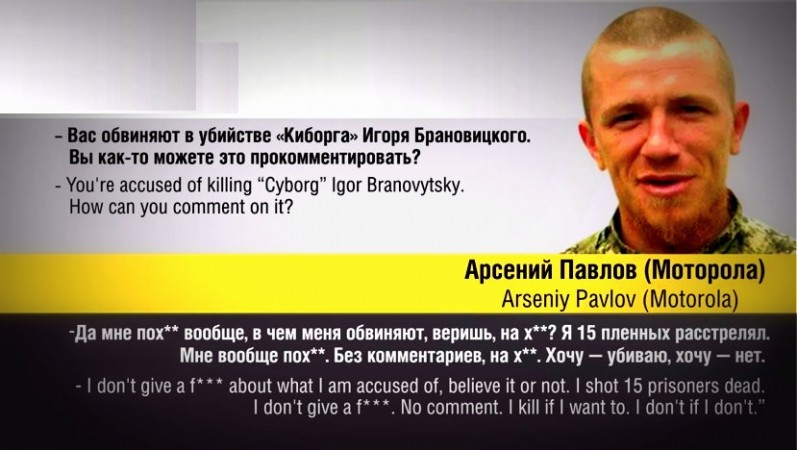 After a Russian fighter confessed to killing 15 Ukrainian prisoners of war, human rights activists and legal experts in Kiev have started pushing for imposing war crime charges against Russia-backed rebels.
The statement was made by Arseniy Pavlov, who is popularly known by his nom-de-guerre Motorola.
The 32-year-old rebel, who is a Russian citizen, made the confession during a telephone conversation with the Kyiv Post on 3 April. He was replying to a question regarding his involvement in the killing of Ukrainian prisoner of war Ihor Branovytsky on 21 January.
Motorola, who is the head of the Kremlin-backed Sparta Battalion, told the daily that he was not bothered by the the eye-witnesses' testimony.
"I don't give a f*** about what I am accused of, believe it or not, I shot 15 prisoners dead. I don't give a f***. No comment. I kill if I want to. I don't if I don't," Motorola told Kyiv Post journalist Oleg Sukhov.
He was born in the city of Ukhta in Komi Republic and has also lived in Rostov-on-Don. According to records, Motorola earlier fought Islamist insurgents in Chechnya.
Motorola's Sparta Battalion played a major role in the takeover of Donetsk Airport by Kremlin-backed militants in January.
Meanwhile, Ukrainian human rights activists and legal experts believe that these alleged crimes are unlikely to reach the International Criminal Court.
While it may be difficult to get Motorola prosecuted for war crimes, it is largely agreed that Ukraine may at least be allowed to present the recording as a war crime evidence.