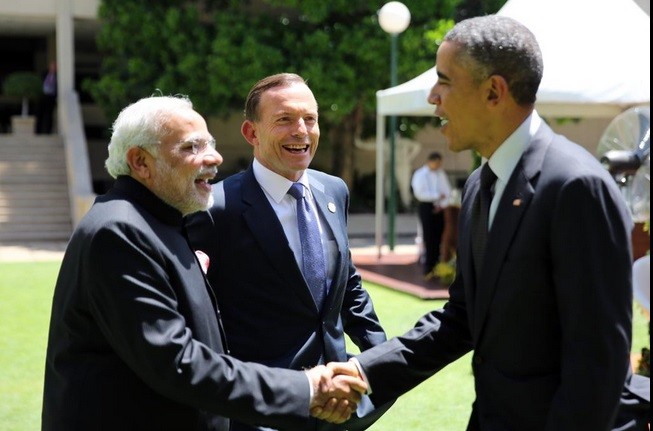 Prime Minister Narendra Modi, who returned from a three-nation tour on Thursday, has penned down the experiences in his blog, stating that he saw "renewed respect and immense enthusiasm towards India".
"On the evening of the 19th, my trip to Myanmar, Australia and Fiji concluded. While on the way back I was reflecting on the last ten days – what did we achieve, what were the outcomes for India and that is when I thought I should also share some thoughts with you through my Blog (sic)", Modi wrote in the beginning of his blog.
Stating that he had 20 bilateral meetings during his tour, Modi writes, "I noticed one thing- that the world is looking at India with renewed respect and immense enthusiasm! I see a global community that is tremendously keen to engage with India".
Modi covered a long gap of 28 years since an Indian Prime Minister visited Australia and a gap of 33 years since an official visit to Fiji.
He also became the first leader to address the parliaments in the two countries.
"I was told that my address to the Fijian Parliament was a first by any world leader. This is not a personal achievement, but it is a reflection on the respect that the 125 crore people of India have in the eyes of the global community," Modi said.
A visit where I saw renewed respect & immense enthusiasm towards India. My blog on the recently concluded visit. http://t.co/apFTvVnyo6

— Narendra Modi (@narendramodi) November 21, 2014
He also wrote about his first participation at the G20 summit in Brisbane during which he had brought up the issue of repatriation of black money. "I am glad that the world community took note of this because this is an issue that does not selectively affect one nation. The menace of black money has the potential to destabilise world peace and harmony. Black money also brings with it terrorism, money laundering and narcotics trade," he wrote.
He also mentioned about his interactions with the heads of the three countries, and his rapport with Australian Prime Minister Tony Abbott was evident after the two leaders shared their photos on Twitter.
"I fondly remember the reception at the iconic Melbourne Cricket Ground. It was very kind of PM Abbott to specially fly down to Melbourne and host the reception, where cricketing greats including Kapil Dev, Sunil Gavaskar, VVS Laxman, Allan Border, Steve Waugh, Dean Jones and Glenn McGrath joined," Modi wrote.
"Prime Minister Abbott and I made unprecedented progress in the areas of energy, culture, and security and are moving very positively on the issue of nuclear energy. The Framework for Security Cooperation is a fitting recognition of the increasing security ties with Australia," he further said in the blog.
Several world leaders also showed keenness on our plans to create 'Next Gen Infrastructure' and smart cities: PM @narendramodi on his Blog — PMO India (@PMOIndia) November 21, 2014
The Indian PM ended his blog with a call to 'script a better future for India'.
"The world is looking at India with renewed enthusiasm. We must reciprocate with a renewed commitment to our shared values and goals," Modi said.