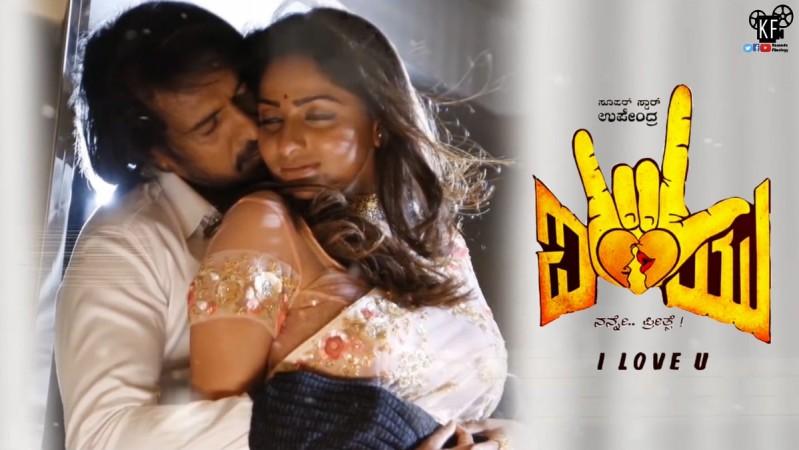 Upendra and R Chandru have united again for bilingual, I Love You, after their much-hyped Brahma. It is a romantic drama which has Rachita Ram and Sonu Gowda playing the female leads.
Ravi Kale, Sayaji Shinde, Jai Jagadish and many others are part of the supporting cast. The film has Dr. Kiran Thotambyle's music, Sugnan's cinematography and Deepu S Kumar's editing.
Story:
The movie is about the clash of philosophies on love. Santhosh does not believe in the concept of love. According to him, love is a mask to fulfil sexual desire. Contradictory to his views, Dharmika (Rachita Ram) believes that true love exists. Love is nothing but the union of emotions of two individuals. At some point they fall in love, but gets separated.
We are told that Santhosh is a businessman and married to a woman played by Sonu Gowda. What happens when he meets Dharmika years later is the crux of the story.
R Chandru has come up with a story peppered with Uppi's trademark mannerism, pop philosophies and masala elements. The story has enough meat to be a good entertainer and a better screenplay would have made it a brilliant entertainer. Upendra shines, Rachita Ram is a surprise package, while Sonu Gowda has done a neat job.
Hype:
I Love You has been publicised well by the makers. The controversy around the movie has turned out to be a boon as the movie has drawn the attention of the public towards the flick. Will it live up to the viewers' expectations? Check it out in their words below:
Priyanka: Chandru has taken inspiration from Uppi's earlier movies, combines his trademark elements with a story and prepares a dish which I would like to call #Churumuri. Watch it if you are a fan of #Upendra and avoid it if you dislike his movies. #ILoveYou #Upendra
Rachita had done a fair job, quite impressive with the performance of @ssonugowda #ILoveYouReview.
Shyam Prasad: #ILoveYou
Surprise surprise. Bereft of high expectations, likeable.
Remember 'I Think I Love My Wife'?
#ILoveYou interval
Wasn't expecting much. But not bad at all. Classic Upendra stuff.
Cineloka: #Iloveyou a perfect film to shot this weekend
@nimmaupendra seen in stylish role , best performance by @RachitaRamDQ , lovable character @ssonugowda
Well directed by @rchandrumovie , screenplay can be still better
Over all : 7.5/10 ♥️
ಚಿಟ್ಟೆ™: Average first half I felt like watching old uppi Movies #iloveyou
cineloka.co.in: #ILoveYou Interval. Looks a rehash of many Uppi Films. Good in Parts.
#ILoveYou - Climax. Good Plot.
The much hyped Romantic song is well shot.
@nimmaupendra looks young and he is at his usual best. @RachitaRamOffl has a strong role. Everyone falls in love with @ssonugowda character.
R Chandru Screenplay could hv been better.
Rating - 3.25/5
Sachin tweetz: #iloveyou as usual low buzz poor opening. Same shitty story. Another disaster for both R chandru, Uppi sir.
Stop making movies & concentrate on politics. If not Concentrate on movies and leave politics.