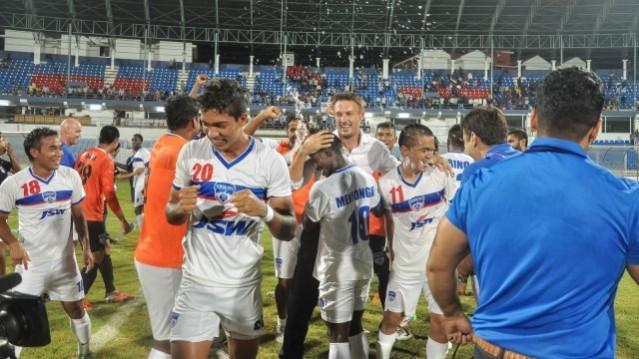 Bengaluru FC created history by becoming the first ever debutants to clinch the I-League title, and in some style too.
The Bangalore outfit needed a win to ensure the likes of East Bengal and Salgaocar would not sneak in to win the crown, and they did just that, putting former champions Dempo to the sword with a clinical 4-2 win in Goa.
With just one round of fixtures remaining, Bengaluru FC, owned by Jindal Steel Works, now have an untouchable four-point lead, with 44 points from 23 games.
The club, which was only founded last year, showed the other teams just how it should be done, not going for too many big-money signing, but instead concentrating on professionalism and team work, with, most importantly, extremely competent coaches - Ashley Westwood and his assistant Pradyum Reddy - at the helm.
India captain Sunil Chhetri, who has somewhat been off colour in the domestic circuit over the past few years, as he attempted to forge a career in Europe and/or in the MLS, found his mojo with Bengaluru FC, with the good vibes created within the squad rubbing off on every single player.
"There are very few moments in my career that will match the significance of this one," Chhetri said. "It's been a team effort since day one.
"We've fought hard, trained harder and none of us are surprised that we are here today. If anything, we are delighted. This team is going down history. We are the champions of India."
The goals for Bengaluru FC on Monday evening came via the excellent Sean Rooney, who found redemption in Indian football, after a forgettable earlier stint, Robin Singh, John Menyongar and Chhetri himself, who made it 4-2, after Roberto Mendes Da Silva and Romeo Fernandes had cut the deficit to a single goal to set the nerves going into overdrive.
Westwood took time out to thank the fans, who have been second to none in the I-League this season, creating an unmatched partisan atmosphere at home to drive their team to glory.
"Just want to congratulate and thank everybody connected to the club who has made this possible," Westwood said.
"We have shown what can be achieved with a combined team effort. I just hope everybody realises how big an achievement this has been for a brand new club and I would also like to say a special thanks to the fans who made Bangalore a special place to play for all of us."