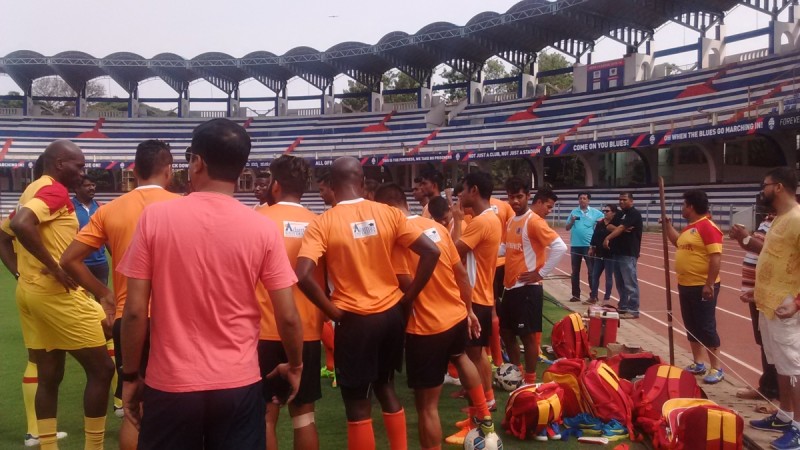 It was supposed to be an effective training session for East Bengal at the Sree Kanteerava Stadium in Bangalore Saturday morning ahead of their crucial I-League game against Bengaluru FC. But, a heated war of words, laden with expletives, transpired between the officials of both clubs during the practice session.
The argument broke out over the time of the training. According to an official correspondence, East Bengal were scheduled to train for an hour from 10 a.m. but their presence in the field way ahead of their official practice time angered the Bengaluru FC officials in the field.
A brawl-like situation erupted between the managers of both teams and East Bengal's Alvito D'Cunha has revealed to the International Business Times India that they could be taking up the matter with the All India Football Federation (AIFF). Alvito, a well-known face in the East Bengal ranks, mentioned that he was completely appalled by the behaviour of the club that boasted of being "professional."
Arunava Bhattacharya, the Local Organising Committee (LOC) member of East Bengal, called up the AIFF immediately after the incident this morning and mentioned that they would be writing a formal letter as well to the Indian football governing body on the incident.
He also mentioned that East Bengal head coach Biswajit Bhattacharya would be commenting on the matter in the pre-match press conference, scheduled in the later half of the day.
The Red and Golds did go ahead with their training session and also extended their practice for more than an hour, which was beyond the permissible duration. Michael Andrews, the match commissioner for the Bengaluru FC vs East Bengal match Sunday, witnessed the entire incident.
He has, however, mentioned he will not include the alleged abusive words and the ugly fight in his letter to the AIFF after the match. As of now, he said that the verbal fight occurred just in the "spirit of the game."
"The arguments took place before I even arrived in the stadium. But what I feel is, it is the spirit of the game that brings the aggressive sides from the teams," Andrews told IBTimes India. "I was not present in the field when the alleged abusive words were thrown at each other, so I would not be mentioning about the incident in my report.
"The onus is on the club [East Bengal] if they wants to lodge an official protest to the AIFF on the incident."