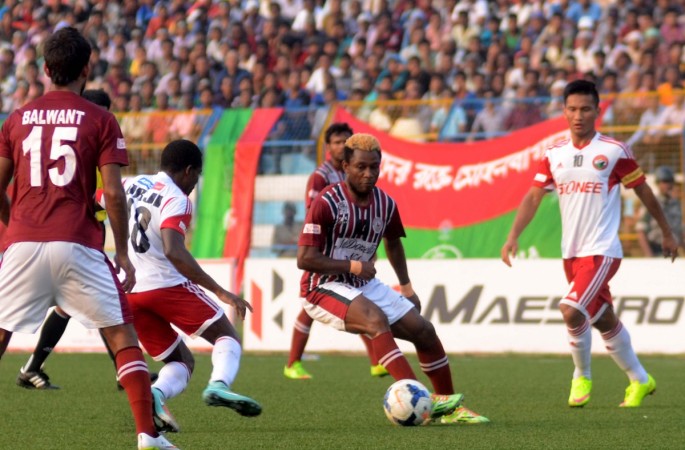 The I-League 2015-16 season features nine teams, who will be taking part in four months of rigorous footballing action in an attempt to bring home the coveted title. The Indian football action will be at its very best, as we get to witness some of the best Indian footballers fighting it out and giving their all in the field.
The Indian Super League has no doubt given Indian football a new dimension, but the I-League — the domestic football league of the country — is responsible for giving birth to the plethora of Indian footballers that are making a name today, both in India and internationally.
There have been tough times and we have witnessed teams like Pune FC, Kalyani Bharat FC and Royal Wahingdoh pull out of the I-League, and Dempo, who have the record of bagging the highest number of I-League titles till date, also do not feature in the list of the nine teams this season. The Goan giants were relegated after their poor performance last season.
Nevertheless, we have nine strong teams this time. Mohun Bagan remain the defending champions, while Aizawl FC, the Second Division League 2015 winners, and DSK Shivajians are the new entrants this year.
According to I-League regulations, only four foreign players can be signed by clubs, and during a match, only three can play simultaneously. The earlier rule of "marquee player" — having at least one player who has played a major football tournament like the World Cup or the Euros — has been scrapped this year.
One of the four players has to be mandatorily of Asian origin.
Let's have a look at the coaches and the foreign players present in all the nine teams:
Mohun Bagan
Coach: Sanjoy Sen.
Foreign players: Sony Norde (Haiti), Luciano Sobrosa (Brazil), Cornell Glen (Trinidad & Tobago), Katsumi Yusa (Japan).
Bengaluru FC
Coach: Ashley Westwood.
Foreign players: John Johnson, Josh Walker (both England), Curtis Osano (Kenya), Kim Song Yong (North Korea).
East Bengal
Coach: Biswajit Bhattacharya
Foreign players: Ranti Martins, Bello Rasaq (both Nigeria), Do Dong-Hyun (South Korea).
Salgaocar FC
Coach: Malky Thomson.
Foreign players: Darryl Duffy, Martin Scott (both Scotland), Calvin Mbarga (Australia).
Aizawl FC
Coach: Manuel Retamero Fraile.
Foreign players: Alfred Jaryan (Liberia), Atsushi Yonezawa, Yuta Kinowaki (both Japan).
Shillong Lajong
Coach: Thangboi Singto
Foreign players: Uilliams Souza, Fabio Henrique (both Brazil), Yusuke Yamagata (Japan).
DSK Shivajians
Coach: Derrick Pereira.
Foreign players: Douhou Pierre (Ivory Coast), Zohib Amiri (Afghanistan).
Mumbai FC
Coach: Khalid Jamil.
Foreign players: Eric Brown (Liberia), Minchol Son (North Korea), Ryuki Kozawa, Taisuke Matsugae (both Japan).
Sporting Clube de Goa
Coach: Mateus Costa.
Foreign players: Densill Theobald (Trinidad & Tobago), Odafa Okolie (Nigeria), Mahmoud Amnah (Syria).