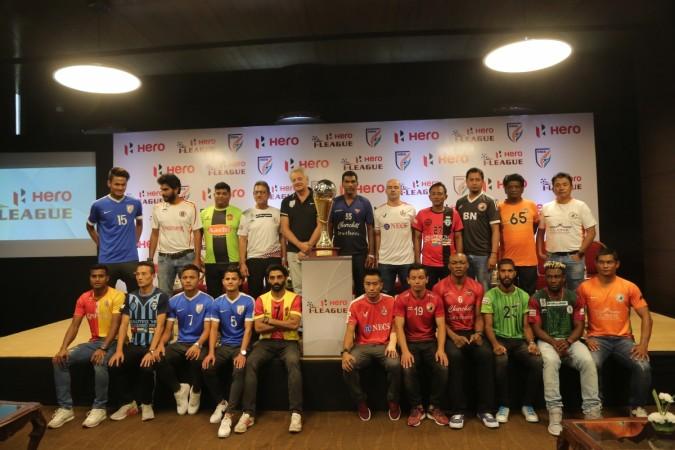 The I-League 2017-18 season gets under way on super Saturday with Punjab-based Minerva FC taking on former I-League champions Mohun Bagan.
A total of ten teams are a part of the Indian football tournament this team around, which also includes a developmental side known as the 'Indian Arrows'.
Youngsters from the India U-17 football side, who played a part in the FIFA U-17 World Cup 2017 recently, will play alongside players from the India U-19 football team, for 'Indian Arrows'.
Full schedule of I-League 2017-18:
| | | | | |
| --- | --- | --- | --- | --- |
| Date | Time | Home team | Away team | Venue |
| 25-Nov-17 | 17:30 | Minerva Punjab FC | Mohun Bagan | Ludhiana |
| 27-Nov-17 | 17:30 | Shillong Lajong FC | Gokulam Kerala FC | Shillong |
| 28-Nov-17 | 20:00 | Kingfisher East Bengal | Aizawl FC | Kolkata |
| TBD | TBD | Indian Arrows | Chennai City FC | TBD |
| 1-Dec-17 | 17:30 | Minerva Punjab FC | Neroca FC | Ludhiana |
| 3-Dec-17 | 14:00 | Mohun Bagan | Kingfisher East Bengal | Kolkata |
| 4-Dec-17 | 14:00 | Shillong Lajong FC | Churchill Brothers | Shillong |
| TBD | TBD | Indian Arrows | Minerva Punjab FC | TBD |
| 6-Dec-17 | 14:00 | Gokulam Kerala FC | Chennai City FC | Kozhikode |
| 9-Dec-17 | 14:00 | Gokulam Kerala FC | Neroca FC | Kozhikode |
| 9-Dec-17 | 17:30 | Kingfisher East Bengal | Shillong Lajong FC | Kolkata |
| 10-Dec-17 | 14:00 | Mohun Bagan | Churchill Brothers | Kolkata |
| 11-Dec-17 | 20:00 | Minerva Punjab FC | Chennai City FC | Ludhiana |
| 13-Dec-17 | 14:00 | Aizawl FC | Churchill Brothers | Aizawl |
| 14-Dec-17 | 17:30 | Mohun Bagan | Shillong Lajong FC | Kolkata |
| 15-Dec-17 | 14:00 | Neroca FC | Chennai City FC | Imphal |
| 16-Dec-17 | 17:30 | Kingfisher East Bengal | Churchill Brothers | Kolkata |
| 18-Dec-17 | 14:00 | Aizawl FC | Shillong Lajong FC | Aizawl |
| 18-Dec-17 | 20:00 | Minerva Punjab FC | Indian Arrows | Ludhiana |
| 19-Dec-17 | 14:00 | Mohun Bagan | Neroca FC | Kolkata |
| 19-Dec-17 | 20:00 | Churchill Brothers | Chennai City FC | Goa |
| 22-Dec-17 | 14:00 | Indian Arrows | Gokulam Kerala FC | Delhi |
| 22-Dec-17 | 17:30 | Shillong Lajong FC | Neroca FC | Shillong |
| 23-Dec-17 | 14:00 | Chennai City FC | Kingfisher East Bengal | Coimbatore |
| 26-Dec-17 | 17:30 | Indian Arrows | Shillong Lajong FC | Delhi |
| 26-Dec-17 | 20:00 | Churchill Brothers | Mohun Bagan | Goa |
| 27-Dec-17 | 14:00 | Aizawl FC | Minerva Punjab FC | Aizawl |
| 27-Dec-17 | 20:00 | Kingfisher East Bengal | Gokulam Kerala FC | Kolkata |
| 29-Dec-17 | 17:30 | Mohun Bagan | Indian Arrows | Kolkata |
| 30-Dec-17 | 14:00 | Neroca FC | Kingfisher East Bengal | Imphal |
| 30-Dec-17 | 17:30 | Churchill Brothers | Minerva Punjab FC | Goa |
| 31-Dec-17 | 14:00 | Gokulam Kerala FC | Aizawl FC | Kozhikode |
| 2-Jan-18 | 20:00 | Mohun Bagan | Chennai City FC | Kolkata |
| 2-Jan-18 | 14:00 | Indian Arrows | Kingfisher East Bengal | Delhi |
| 5-Jan-18 | 14:00 | Neroca FC | Indian Arrows | Imphal |
| 5-Jan-18 | 17:30 | Shillong Lajong FC | Chennai City FC | Shillong |
| 6-Jan-18 | 14:00 | Churchill Brothers | Kingfisher East Bengal | Goa |
| 6-Jan-18 | 17:30 | Gokulam Kerala FC | Minerva Punjab FC | Kozhikode |
| 7-Jan-18 | 14:00 | Mohun Bagan | Aizawl FC | Kolkata |
| 8-Jan-18 | 20:00 | Shillong Lajong FC | Indian Arrows | Shillong |
| 9-Jan-18 | 20:00 | Chennai City FC | Neroca FC | Coimbatore |
| 10-Jan-18 | 17:30 | Mohun Bagan | Minerva Punjab FC | Kolkata |
| 12-Jan-18 | 17:30 | Gokulam Kerala FC | Indian Arrows | Kozhikode |
| 13-Jan-18 | 14:00 | Aizawl FC | Chennai City FC | Aizawl |
| 13-Jan-18 | 17:30 | Kingfisher East Bengal | Mohun Bagan | Kolkata |
| 14-Jan-18 | 14:00 | Shillong Lajong FC | Minerva Punjab FC | Shillong |
| 15-Jan-18 | 20:00 | Gokulam Kerala FC | Churchill Brothers | Kozhikode |
| 16-Jan-18 | 20:00 | Indian Arrows | Neroca FC | Delhi |
| 19-Jan-18 | 17:30 | Churchill Brothers | Shillong Lajong FC | Goa |
| 20-Jan-18 | 14:00 | Aizawl FC | Neroca FC | Aizawl |
| 20-Jan-18 | 17:30 | Gokulam Kerala FC | Mohun Bagan | Kozhikode |
| 21-Jan-18 | 14:00 | Kingfisher East Bengal | Minerva Punjab FC | Kolkata |
| 22-Jan-18 | 20:00 | Churchill Brothers | Indian Arrows | Goa |
| 23-Jan-18 | 14:00 | Neroca FC | Shillong Lajong FC | Imphal |
| 25-Jan-18 | 14:00 | Aizawl FC | Mohun Bagan | Aizawl |
| 27-Jan-18 | 14:00 | Neroca FC | Minerva Punjab FC | Imphal |
| 27-Jan-18 | 17:30 | Chennai City FC | Indian Arrows | Coimbatore |
| 28-Jan-18 | 14:00 | Gokulam Kerala FC | Shillong Lajong FC | Kozhikode |
| 29-Jan-18 | 14:00 | Aizawl FC | Kingfisher East Bengal | Aizawl |
| 30-Jan-18 | 14:00 | Churchill Brothers | Neroca FC | Goa |
| 3-Feb-18 | 14:00 | Chennai City FC | Aizawl FC | Coimbatore |
| 3-Feb-18 | 17:30 | Shillong Lajong FC | Mohun Bagan | Shillong |
| 4-Feb-18 | 14:00 | Neroca FC | Gokulam Kerala FC | Imphal |
| 5-Feb-18 | 20:00 | Kingfisher East Bengal | Indian Arrows | Kolkata |
| 6-Feb-18 | 17:30 | Churchill Brothers | Aizawl FC | Goa |
| 6-Feb-18 | 20:00 | Chennai City FC | Mohun Bagan | Coimbatore |
| 10-Feb-18 | 14:00 | Neroca FC | Aizawl FC | Imphal |
| 10-Feb-18 | 17:30 | Indian Arrows | Churchill Brothers | Delhi |
| 11-Feb-18 | 14:00 | Chennai City FC | Shillong Lajong FC | Coimbatore |
| 12-Feb-18 | 20:00 | Mohun Bagan | Gokulam Kerala FC | Kolkata |
| 13-Feb-18 | 20:00 | Minerva Punjab FC | Kingfisher East Bengal | Ludhiana |
| 14-Feb-18 | 14:00 | Neroca FC | Churchill Brothers | Imphal |
| 16-Feb-18 | 17:30 | Indian Arrows | Aizawl FC | Delhi |
| 17-Feb-18 | 14:00 | Gokulam Kerala FC | Kingfisher East Bengal | Kozhikode |
| 17-Feb-18 | 17:30 | Chennai City FC | Churchill Brothers | Coimbatore |
| 18-Feb-18 | 14:00 | Neroca FC | Mohun Bagan | Imphal |
| 19-Feb-18 | 20:00 | Shillong Lajong FC | Aizawl FC | Shillong |
| 20-Feb-18 | 20:00 | Minerva Punjab FC | Gokulam Kerala FC | Ludhiana |
| 23-Feb-18 | 14:00 | Aizawl FC | Indian Arrows | Aizawl |
| 23-Feb-18 | 17:30 | Minerva Punjab FC | Shillong Lajong FC | Ludhiana |
| 24-Feb-18 | 17:30 | Kingfisher East Bengal | Chennai City FC | Kolkata |
| 25-Feb-18 | 14:00 | Churchill Brothers | Gokulam Kerala FC | Goa |
| 26-Feb-18 | 20:00 | Minerva Punjab FC | Aizawl FC | Ludhiana |
| 27-Feb-18 | 20:00 | Kingfisher East Bengal | Neroca FC | Kolkata |
| TBD | 17:30 | Chennai City FC | Minerva Punjab FC | Coimbatore |
| TBD | 14:00 | Aizawl FC | Gokulam Kerala FC | Aizawl |
| TBD | 17:30 | Indian Arrows | Mohun Bagan | Delhi |
| TBD | 14:00 | Shillong Lajong FC | Kingfisher East Bengal | Shillong |
| TBD | 20:00 | Chennai City FC | Gokulam Kerala FC | Coimbatore |
| TBD | 20:00 | Minerva Punjab FC | Churchill Brothers | Ludhiana |
How to watch the matches LIVE
TV guide - Star Sports Network (India)
Online - Hotstar (India)