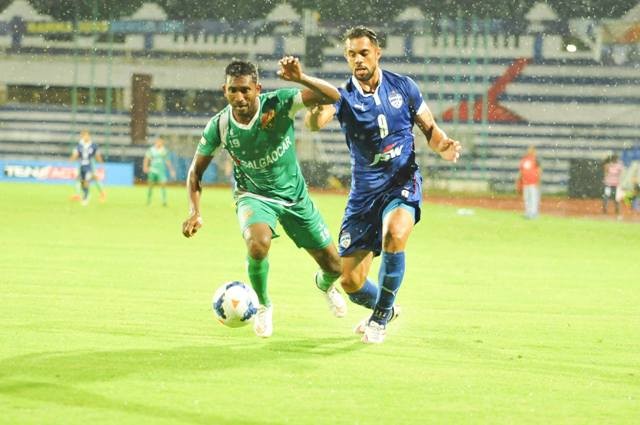 Bengaluru FC head coach Ashley Westwood has said star Indian national team forward Robin Singh could be sidelined for the entire season of I-League 2015-16 if his knee injury does not heal fast.
Robin, 25, fell awkwardly after scoring his second goal of the night for the national team last month during India's opening game against Sri Lanka in SAFF Cup 2015. The lanky forward was stretchered off following the incident, and days later Stephen Constantine confirmed he would miss the remainder of the tournament.
However, the big question remained: How long has Robin been sidelined for, and what is the extent of the damage to his knee?
Westwood on Tuesday, during a media interaction in Bengaluru, said everything depends on the nature of the treatment Robin is getting. "Robin Singh has probably suffered an ACL tear, but we are not sure about the extent of the damage. It can be either a full tear or a partial tear," the Englishman said in reply to a question posed by IBTimes India.
"It's just a case of the right treatment [Robin gets] from the right surgeon. If everything goes well, his recovery could take place in a month, or he could be out for as long as 6-9 months. It all depends if a proper qualified surgeon takes up the case, and explores all the options to administer the right cure."
Robin's absence is going to be very harsh for Bengaluru FC, with the new I-League season starting on 9 January, 2016. However, Westwood remains positive despite the unavailability of his key centre forward.
"We have plenty of forwards who can cover different areas. Kim [Song Yong] is a No 9, although Robin was only our tallest No 9. Len [Doungel] can play there, Sunil [Chhetri] can play there, [CK] Vineeth can also play there," Westwood said "It is unfortunate to lose a key memeber of the squad. In the last two years of the club, he had become an integral part of the team.
"But that's football. Big injuries do happen, but that cannot be a setback. I just hope he comes back stronger, but that [his absence] also means it is an opportunity for someone else [to step up]."