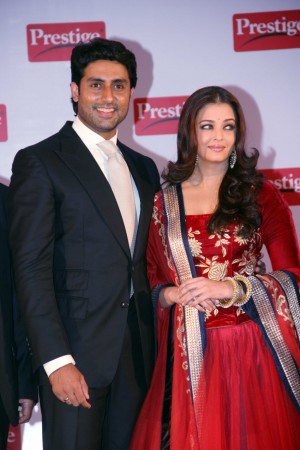 Bollywood star Abhishek Bachchan in a recent interview talked about his wife Aishwarya Rai and how he wooed her before marriage.
The 37-year-old actor has been married to Aishwarya for six years now and still seems star-struck by her beauty.
"I am used to people whistling at my wife... see my wife then you will know why I am saying this. I have never whistled at her to woo her... I don't think its the right thing to do. I courted her through my gesture, emotions and words," Abhishek told IANS.
Reacting to her hubby's statement, Aishwarya said, "This is why I am married to him."
On his wife's culinary skills, Abhishek said, "She cooks really well... in fact she makes good deserts. When we were newly-married, there is a Bengali custom where the girl has to make some sweet and she prepared 'halwa' which was too good. More than anything else, it is the emotion and with love you cook that matters."
Aishwarya's commitment as a homemaker is obvious from her refusal to take up any film offers in order to concentrate more on her 15-month-old daughter, Aaradhya.
Playing the ideal 'bahu', Aishwarya has often been spotted with her-in-laws, Amitabh and Jaya Bachchan, at various functions.
Rumors were rife that the 39-year-old actress is making a comeback opposite Abhishek in "Happy Anniversary", which would be directed by ad-guru Prahlad Kakkar.
But Abhishek clarified that no script had been finalised. Aishwarya's spokesperson also commented on the reports saying, "Prahlad's script is among the many scripts she has given her nod to. But it is very preliminary for the producer to jump the gun and announce it as her comeback film," reported Mid-Day.