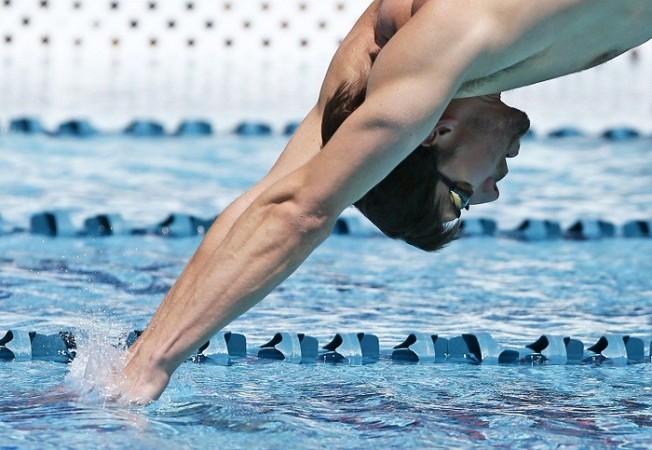 In the second race of his comeback after a 20-month retirement, 22-time Olympic Swimmer Michael Phelps chose to swim butterfly in a 50m freestyle heat. He didn't make it to the final, like he did in the 100m fly where he finished second to Ryan Lochte, but being in a race and to plunge back in water was all that mattered to the American.
It was not for nothing that Phelps opted for a different stroke. He was preparing for 100m butterfly and freestyle in real race time as insisted by coach Bob Bowman.
"I'm sort of experimenting with stuff that I didn't have the guts to do before," Bowman said. "His training is half what it was. And what we're doing is working for these races."
The American champ finished in 24.06 time, which put him on seventh in the eight-man heat and 42nd overall who all swam the traditional freestyle stroke. On a brighter note, he finished more than half a second faster than his first 50 of Thursday night's 100m butterfly final.
"The 50 is kind of weird," Phelps said. "Bob said, 'This could be the first and last one of your career,' and I said 'O.K.' "
The 18-time Olympic gold medallist said he wanted to focus on 100m race for now and hence opted out of 200m free on Friday and didn't want to pressurise himself and oversaw doubling 100m free on Thursday. Adding, Phelps guaranteed no return to the 400m individual medley, which remained his challenging best in his peak years.
"If I want to do a good 100, I have to be out in that with a comfortable stroke," Phelps said. "As a whole, I felt pretty good just being able to get back in the water and race again. I'm pretty excited.
"I felt like a kid. I think that was the coolest part about it."