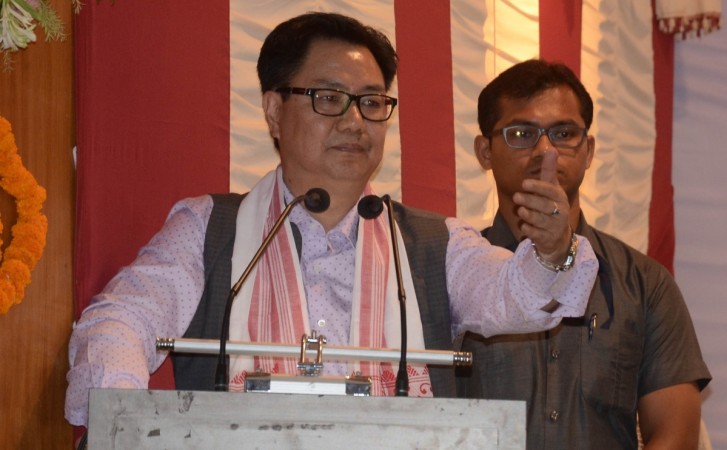 Days after former Supreme Court judge Justice Markandey Katju slammed Minority Affairs Minister Mukhtar Abbas Naqvi for asking beef-eaters to go to Pakistan, his colleague Kiren Rijiju also retorted to the statement, calling it "unpalatable". He futher challenegd anyone to try and stop him from eating the meat.
"I eat beef, I'm from Arunachal Pradesh, can somebody stop me? So let us not be touchy about somebody's practices... This is a democratic country. Sometimes, some statements are made which are not palatable," Union Minister of State for Home Affairs Kiren Rijiju said during a visit to Aizawl, Mizoram, on Tuesday, The Indian Express reports.
Rijiju's remark came in response to Naqvi's statement on Thursday, asking those "dying without eating beef" to go to "Pakistan or Arab countries or any other part of world where it is available". He also said that beef ban is "an issue of faith and belief" and "a sensitive issue for the Hindus".
Naqvi, who is also the vice president of BJP, had made the above statement while justifying the ban on cow slaughter. Rijiju disagrees with Naqvi and said one should not have a problem with others' beliefs.
"If a Mizo Christian says that this is the land of Jesus, why should someone have a problem in Punjab or Haryana? We have to honour the sentiments of each place and each location," he said.
"If Maharashtra is Hindu majority, or if Gujarat is Hindu majority, Madhya Pradesh is Hindu majority, if they are to make laws which are conducive to the Hindu faith, let them be. But in our place, in our state where we are majority, where we feel whatever steps we take, you know, laws which are conducive to our beliefs, it should be. So they also should not have a problem with the way we live, and we also should not have a problem with the way they live," he added.
Rijiju further said that people must respect each other's practices and should not force anyone to follow their practices or beliefs because "it is not good".
"This country is a multi-racial, multi-religious, multi-communal country. We must respect each other's practices. There cannot be any force on anybody about your practices, your faith. So if anybody makes a statement which is forcing or imposing your belief, your faith, your practices on another community, another believer, it is not good," Rijiju said.
A day after Naqvi made the controversial statement, former Chairman of Press Council of India Katju took to social media platform Facebook to slam him.
"I am a Hindu, and I have eaten beef, and will again eat it. There is nothing wrong in beef eating. 90% of the world eats beef. Are they all sinners? And I refuse to believe that cow is sacred or our mother. How can an animal be a mother of a human being? That is why I say 90% Indians are idiots, Mr. Mukhtar Abbas Naqvi included," Katju said.