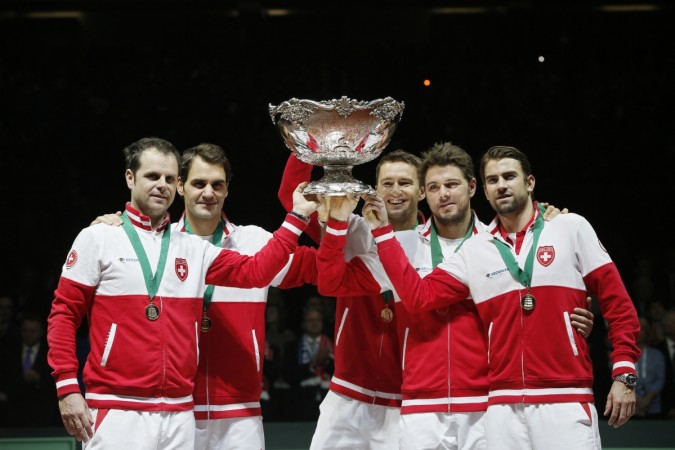 Roger Federer insists Switzerland's maiden and much-awaited Davis Cup triumph was all about the hard work of entire team.
Switzerland beat nine-time champions France 3-1 in Lille on Sunday to win their first Davis Cup title. It was Federer who clinched the trophy for the Swiss, beating Richard Gasquet 6-4, 6-2, 6-2, after the latter brought in to replace the injured Jo-Wilfried Tsonga.
Having already won all four Grand Slams - a record 17 times in total, six ATP World Tour Finals, 23 Masters Series and the Olympic gold (in doubles), the Davis Cup was the only title that had eluded the legendary player.
Federer has now secured tennis's major team competition as well, adding yet another feather in his cap. However, the 33-year-old feels the Davis Cup triumph was all about his teammates, rather than a personal achievement.
"This one's for the boys," Federer pointed out. "This is not for me. This is for them."
"I'm at the point in my career that I don't need this for my career, to 'complete my everything', to 'tick off my box'. I'm happy for everybody else. I'm happy because we have a historic tennis moment in our country."
Federer had lost his first singles match against Gael Monfils 6-1, 6-4, 6-3 but Stan Wawrinka's win over Jo-Wilfried Tsonga (6-1, 3-6, 6-3, 6-2 ) and the Federer/Wawrinka team's triumph over Julien Benneteau/Gasquet (6-3, 7-5, 6-4) gave Switzerland a 2-1 lead, going into the Federer-Gasquet tie.
And the Swiss maestro has now acknowledged Wawrinka's efforts in making sure that their country triumphed in Lille. Wawrinka has been Switzerland's torchbearer of sorts in Davis Cups and Olympics over the years, always giving his best in the team-based competitions.
"Stan has put in so much effort over the years, and he played an unbelievable weekend, and that's what gave me the opportunity. I'm very much aware of that," Federer stated.
"We fought hard for it. I've been playing this game for almost 15 years now, and clearly I've never come as close as this past weekend. Happy I was able to stay calm and play a good match when I had to."