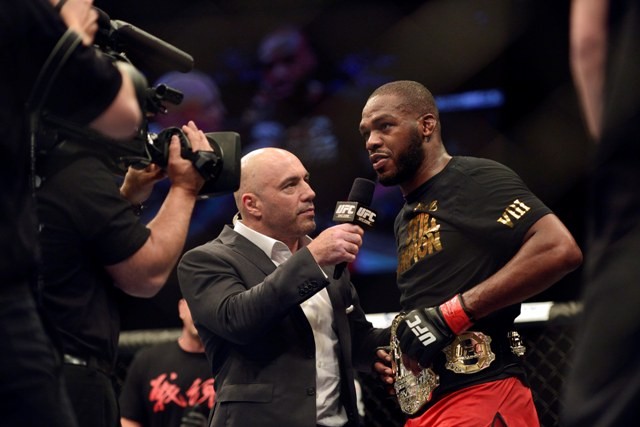 The last one year was tumultuous for Jon Jones, regarded as one of the most lethal MMA fighters ever to participate in the UFC. The former UFC Light Heavyweight champion was found guilty of breaking the law and then was stripped off his title and suspended indefinitely by the MMA promotion.
Fast forward a year and Jones gets to participate in his first fight inside the octagon in over a year at UFC 197, where he takes on Ovince Saint Preux for the interim UFC light heavyweight title. Jones, who became the youngest champion in the history of UFC at the age of 23, was originally scheduled to take on current champion Daniel Cormier for the title.
However, Cormier was forced to back out of the fight owing to an injury.
For Jones, now that everything is kind of sorted out, the 28-year-old can once again put his focus back on his game and do what he has done the best all these years to make a name for himself.
"It feels great [to be back]. Yes, I have had a pretty wild year," said Jones in the UFC 197 media conference call. "But through it all, I've remained unbroken and I found different ways to draw strength from the adversity.
"Being back here fighting, it just - it feels amazing. I'm more sure now than ever that fighting is what I love and it's what I was meant to do. It's when I'm the most alive and it's when I'm living the way - I'm going to go as far to say - I'm living the way God intended for me to live. He's given me this gift and he wants me to use it and to have a good message through doing it. I think the message part is what I'm still working on.
"I definitely have a gift God's blessed me with and now I'm getting ready to use it again and it feels great, feels great to be here. Everything feels right," he added.
The American fighter, who is also a big believer in God, got philosophical and stated that life does bring a lot of downs, but the main strength lies in getting back up and face the challenges, rather than backing away from them.
"My biggest lessons is that I would sum up the way I look at the last few months of my life. In life, you're going to have ups and downs and the key to surviving is to know when you're down, that's not who you are, that's a temporary state, a temporary situation," continued Jones.
"I think a lot of times when we're down we start to look at our self and at this lower self-esteem and we start to believe that this is who we actually are.This is the way that our life is. There's a quote that says, 'Having a bad day doesn't mean you have a bad life'.
"So just always believe in the good, the good values, the qualities that you have, the good times that you have in your future coming to you, just believe in the good, believe in that higher version of yourself, never forget, I think those are those qualities about yourself. And continue to move forward, fight through that adversity and move forward and try to do things better and not find yourself in one of those down moments again.
"So that's me. I've been through a lot of stuff, but I found myself unbroken by the end of it because I've had many low moments and I've had many high moments. But I believe in the better moments, the finer things, so that's it, move forward through the ups and the downs," he added.
UFC 197, headlined by the fight between Jones and Saint Preux, is scheduled to take place at the MGM Grand Garden Arena in Las Vegas on April 23.
UFC 197 will be broadcasted Live & Exclusively on Sony ESPN and Sony ESPN HD @ 7:30 am on April 24.