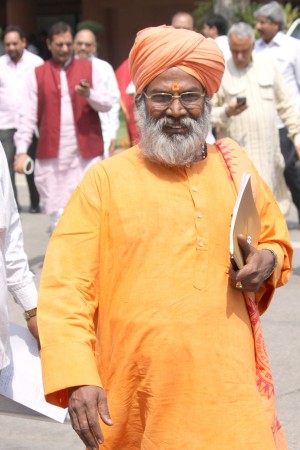 Bharatiya Janata Party MP Sakshi Maharaj has stoked yet another controversy by calling himself a "true Muslim" and claiming that Prophet Mohammed himself was a practitioner of yoga.
The BJP leader's statement comes even as several Muslim groups are protesting the Modi government's plan to make yoga compulsory across schools on the International Yoga Day on 21 June.
"In Islam, the biggest name is that of Mohammed and I think Mohammed saab is a great yogi. I think that a Muslim is one with 'iman', thus a Mussalman. I am a true Muslim," Sakshi Maharaj said, according to The Times of India, which cited TV reports.
The Yoga Day has become a sensitive issue in the country, as several Muslim bodies have called it a 'saffronisation' attempt by the BJP government.
Earlier, the All India Muslim Personal Law Board had said that surya namaskar was 'against Islam' and should not be forced on Muslim students on the Yoga Day.
The government had reportedly dropped surya namaskar from its list of asanas that will be performed as part of the nation-wide events on 21 June.
Sakshi Maharaj lashed out at the "communalisation" of the surya namaskar too.
"Without the Sun, you and I both would be blind, the whole world would be blind. Those who call the Sun communal, stop taking its light," he said according to CNN-IBN.
Prime Minister Narendra Modi had called for a global day dedicated to yoga in his speech at the UN General Assembly last year.
Following Modi's request, the United Nations had in December 2014 declared observing the International Yoga Day.
Related