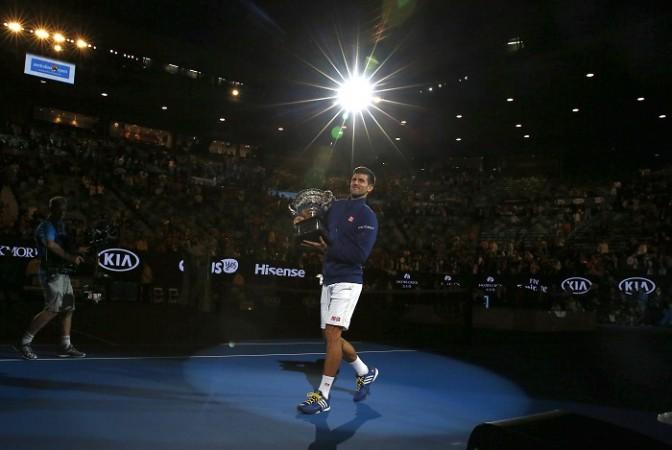 Novak Djokovic executed his plans to perfection in defeating Andy Murray on Sunday to clinch his sixth Australian Open title. The Serbian wanted to play an aggressive brand of tennis and did so with a dominating display, defeating Murray in straight sets with the score reading 6-1, 7-5, 7-6 (7-3).
The first set was as-easy-as-it-gets for Djokovic, who did not have any trouble in breaking Murray's serve. Though the second and third set were closer, the top seed was too good for Murray, who lost his fourth Australian Open final to Djokovic.
"I think I started the match very well, as I started in semifinals versus Roger, with not many things I've done wrong. Actually I was very aggressive and just played the way I wanted to play against him, and executed the gameplan perfectly for a set and a half," Australian Open's official website quoted Djokovic as saying.
"The second set was decided in a few points, as was the third. I thought I maybe could have done better in my service games when I was up a break both sets, second and third, but credit to him for fighting and showing why he's one of the best in the world."
The Serbian, who could have created history by clinching all the Grand Slams last year, can achieve this feat in 2016 if he maintains such quality tennis throughout the year. Overall, Djokovic has won 11 Grand Slams, including six Australian Open titles so far, which will make any tennis player proud.
"I don't take anything for granted, even though I won last four out of five Grand Slams, played five finals out of five Grand Slams last that I played," Djokovic added.
"It's phenomenal. I'm very proud of it, as is my team. We worked very hard to be in this position, and we should enjoy it. We should cherish every moment that we get to experience now because these are the tournaments that we all value, that we all want to play well on.
"No doubt that I'm playing the best tennis of my life in last 15 months."
Apart from clinching the year's first Grand Slam, the Serbian wrote his name in the history books, equalling Roy Emerson's six Australian Open titles, which is an incredible feat. Next year, he could even cross that record.
"Every Grand Slam title is very significant in its own way. Here, because of the fact that I managed to make history tonight and equal Roy Emerson's six Australian Open titles. Very honored to be mentioned alongside legends of our sport by Bjorn Borg, Rod Laver, win as many Grand Slams as they did," said Djokovic.
Murray, who was outplayed in the first set, believes he could have played better if his forehand would have come to the party.
"I do think I could have played a bit better, like I said. I didn't think I hit my forehand as well as I could have done. When I did in the third set, that helped me out a lot. I was able to get myself into the net more. I was able to play more offensive tennis then," said Murray.