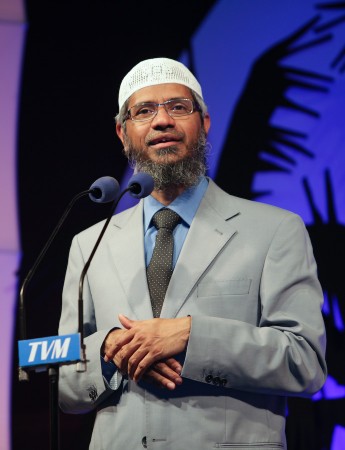 In response to a series of charges against him, Islamic preacher Zakir Naik finally addressed the press on Friday after cancelling it the previous day. In his first press conference, since he was accused of inspiring the Dhaka attackers, Naik denied inspiring terrorists.
In his opening statement, Naik condemned the Bastille Day attack that took place in France's vacation town Nice on Thursday night.
During the press conference via Skype, he said that he had answers to all allegations made against him. He had pen drives for reporters with evidence against the allegations.
He condemned all terror attacks in world. However, he said, "Suicide bombing where innocents are killed is haraam. But as a tactic of war, it is permitted say many scholars."
Naik also blamed the media of altering his answers and misguiding people. Media changed the meaning of his statements for ulterior motives, the Islamic preacher said.
"Those who do that should be held responsible," ANI quoted Naik as saying.
"Why are you relying on a doctored clip, or an answer which is out of context? I challenge you to show my any unedited clip," he said when asked about his response to suicide bombings.
He reiterated that he condemned "suicide bombings of the kind that is happening".
When asked about ban on his channel Peace TV, which is broadcast in India, but uplinked from Dubai, he said that, "Ban can only be if a country has given downlinking permission. When India hasn't given then, what ban?"
Earlier, Information and Broadcasting Minsiter Venkaiah Naidu had said that the channel does not have permission to broadcast in India. It had applied for rights to broadcast in India twice, but was rejected, according to the Times of India.
Naik on Friday said that no Indian authority, including police, have reached out to him.
"Knowingly I have never met any terrorist, but if some people stand next to me to take photographs, I smile. I dont know who they are...I am a messenger of peace. I do not criticise any sect of Islam, I may disagree on interpretations," he said.
He made headlines after the terrorists who attacked a cafe in Bangladesh killing 20 people said that they followed him. His preachings are said to be disturbing peace in India and Bangladesh. He is banned from Malaysia, Canada, United Kingdom and now Bangladesh.